'I'm used to getting picked up and dropped off,'
Lachlan Martin tells me, referencing the minimal performance space needed for his one-man show Party Snake, one of the Sydney Fringe Festival's featured events. But, as far as every other element of the production is concerned, that's the only minimal thing about it.
'In simple terms, it's about a drag queen who comes home after a big night out of performing, drinking, and doing other substances. He gets to his apartment and realises that he has to get ready for his job as a primary school drama teacher.'
'So at 5am he unmasks her, going through the emotional journey of having two characters in your life and the journey of being a drag queen.'
Oddly enough, Martin's brief time in the drag community played but a little role in his initial involvement.
'It was a really random process actually!'
'I knew the writer [Kotryna Gesait] through a friend of mine, and at a party I was in drag because the theme was 'queen'. When I was dancing, she approached me and asked me to be involved in this production.'
'I got a call the next day and had coffee with her. We started chatting about [our] relationships to drag and it grew into this thing.'
Martin then takes this time to elaborate on the creative team behind the show, amateur company U Mad? Productions.
'It's a small team of 3 – Kotryna, the show's writer and director, Ryan Stewart as its producer, and me.
'Ryan is the brains behind getting the show up and running; Kotryna is a massive driving force because it was about getting her vision up and running; and I am the vehicle, the mouthpiece to the audience from Kotryna's brain.'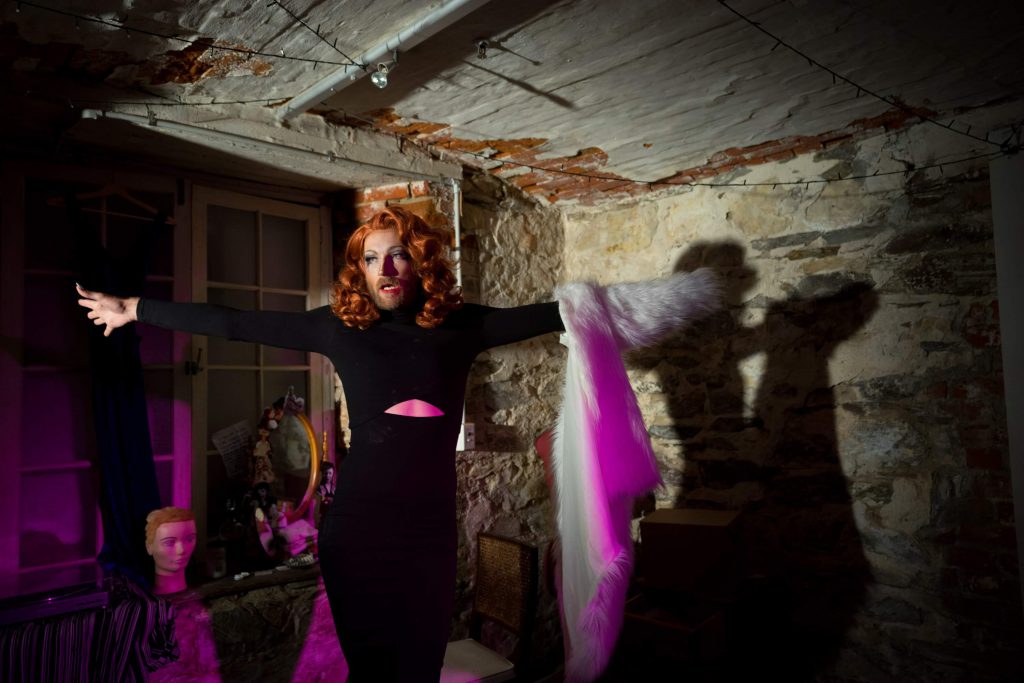 However, it hasn't always been a smooth ride.
'This is the first time I've done a one-person show, and it's incredibly daunting. To channel through this 50 minutes [alone], if you get lost it's kind of up to you to get back up to the piece. To me, it's about concentrating on the script and not getting distracted.'
'One night at [the] Adelaide [Fringe] the audience was loud and laughing constantly, and on another there was complete silence. You need to talk to yourself about the audience and listen to your brain telling you 'It's not a bad performance, just a different crowd'.'
Amongst all its differences, Martin doesn't believe the show's drag influence prohibits anyone from enjoying it.
'A lot of heart, soul, pain, and confusion went into creating this character, [but] when we go deeper it is about a writer, a singer, an artist who has a battle between living their life and using that life to create art. Anyone can relate to it, and people that have nothing to do with drag can connect to this character even though they didn't think they could.'
'That's what theatre's all about: telling stories and relating to it.'
Shying away from the fact that his show holds the distinction of being among the Fringe's featured events, already labeled as a highlight, Martin instead ends the interview by lauding Sydney and the queer community.
'We're super excited to come to a city like Sydney – which has been so queer-positive – and I'm so glad to be a part of its texture, its fabric.'
'We hope people can have a thoughtful, provoking night, especially in a time and space where we've come leaps and bounds as a queer community yet we've got so much far to go.'
'[I mean,] gay marriage was only legalised a few years ago. So the more queer stories, the more visibility, the more recognition.'
'This show is a vehicle to express that we are both larger-than-life but also real people.'
Party Snake is a Featured Event at the Sydney Fringe Festival 2019 and plays the Old 505 Theatre from 17-21 September.