Seymour's Reginald Theatre was packed for this show's opening night.
Written in the 1970s and inspired by the Fellini film 8 1/2, Nine follows the trials and tribulations of fictional famous Film Director Guido Contini. Juggling the women in his life, fending off paparazzi, and desperately clutching for new ideas to begin his next movie script, Little Triangle's production features a mostly young cast, working creatively with stage and sound to do this piece justice.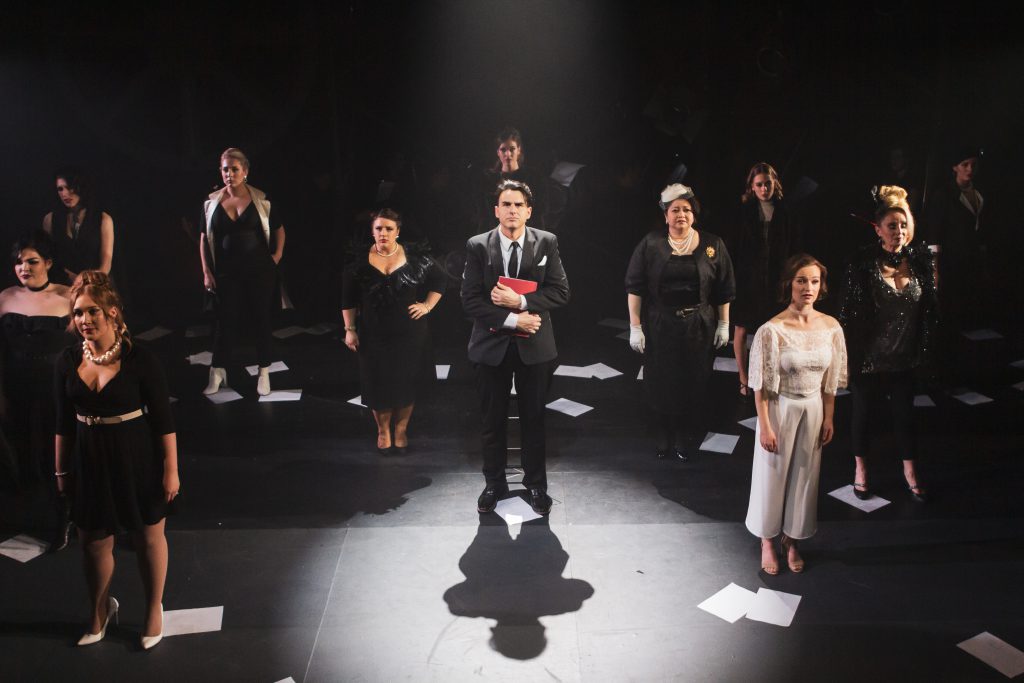 Director Alexander Andrews made good use of the small venue space, allowing the audience to cuddle in on the action by including a mezzanine around the stage and placing the cast entry/exit up the centre aisle of the theatre. This made for some added fun later on in the show, with some crowd interaction creeping up on the unsuspecting front row.
In the lead role of Contini, Andy Leonard presented a strongly developed, loveable, and vulnerable character who got the audience on his side very quickly. His comic timing was great, very articulate and relating well to the other performers. This writer only wishes he'd added a little more naughty sex appeal to justify all the girls being after him, reflecting the push/pull between the cold reality of Contini's marriage/career and his irresistible womanising charm with greater balance.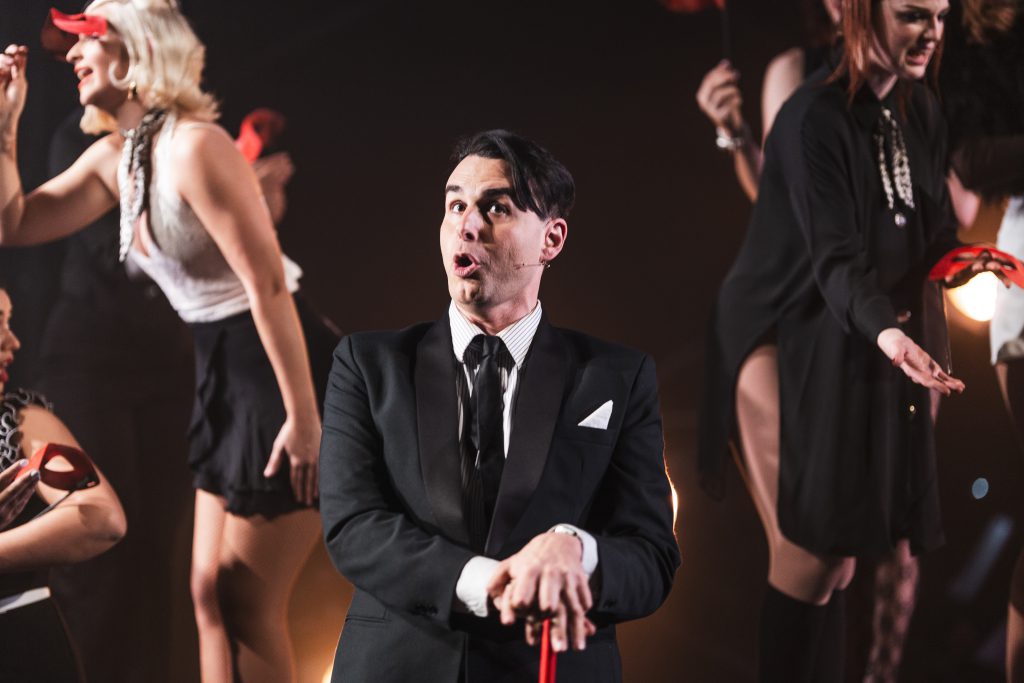 Tayla Jarrett gave a solid performance as Contini's wife Luisa, drawing empathy from the audience and great applause at the close of the piece. Caitlin Rose, as his voluptuous mistress Carla, performed one of the best songs in the musical – A Call from the Vatican – but attention was distracted from her by a heavy side serving of dancers, denying us the opportunity to see exactly how overtly sexual Carla could be.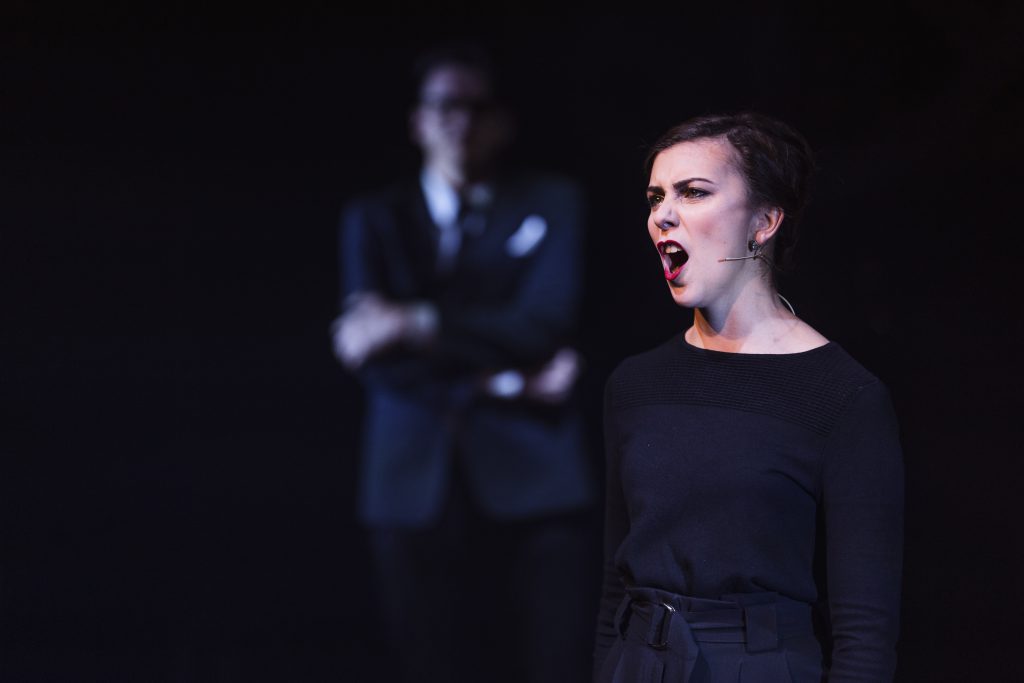 Whilst this writer can't name the whole cast, there were some very strong voices featured which made a real showcase of a production. Though there were times when the ensemble had timing issues due to the Music Director Antonio Fernandez being out of sight, throwing caution to the wind with each cast member offering full conviction to their character would bring it closer to a professional level.
Musically, Be Italian stands out as the show's highlight. A magnificent, gorgeously sexy song about how to be a great lover of women, the number was played superbly by Sarah Murr as Saraghina – a big success, with the final tarantella really stirring up the audience.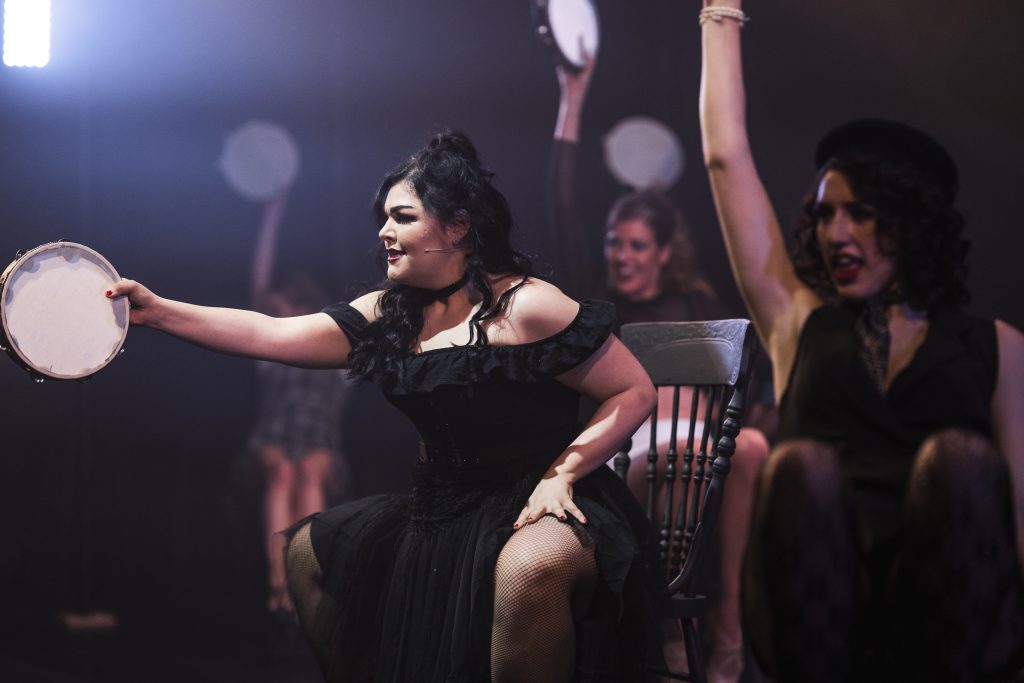 Additionally, by being put together on a shoestring budget with no costume changes, the production was highly creative in presenting variety through its props, splashes of colour in an otherwise monochrome design, and use of stools/bodies to clearly mark out changes of scene. It would have been great to see more demarcation between illusion and reality using lighting though, as there are a few 'visions' that appear sporadically throughout the storyline which can be confusing.
All in all, a remarkable work for a young company and highly recommended viewing.