Gilbert and Sullivan – A Float.
When visualising HMS Pinafore, touring Glen St Theatre, imagine the Gilbert and Sullivan cast with performers in the Gay and Lesbian Mardi Gras, still in costume. The effect is striking, inventive and comic, but the original piece sinks from sight. Thankfully, it is very well sung.
The Hayes Theatre Company have brought a talented ensemble to Frenchs Forest. Some of the men have long eyelashes and all have gold eyeshadow from brow to lash. The first hint of mayhem enters with Little Buttercup, who has real five o'clock shadow. Thomas Campbell's performance is an object lesson in comic camp timing as he/she touts a list of Aussie confectionery ending with the Fisherman's Friend.
Ignore the disingenous note from director Kate Gaul: "we don't change a word." Anything goes, for a laugh.
Gender gymnastics continue apace. Billie Palin plays Ralph in a tight white t-shirt so there is no confusion, but rather curiosity, as to how Gilbert's identities will work out in these colourful new layers.
Hannah Greenshields' Josephine suffers no such gender issues. Her superb voice soars through the Sullivan score, reminding us of the considerable musical art that underpins the piece. I predict a bright future for her.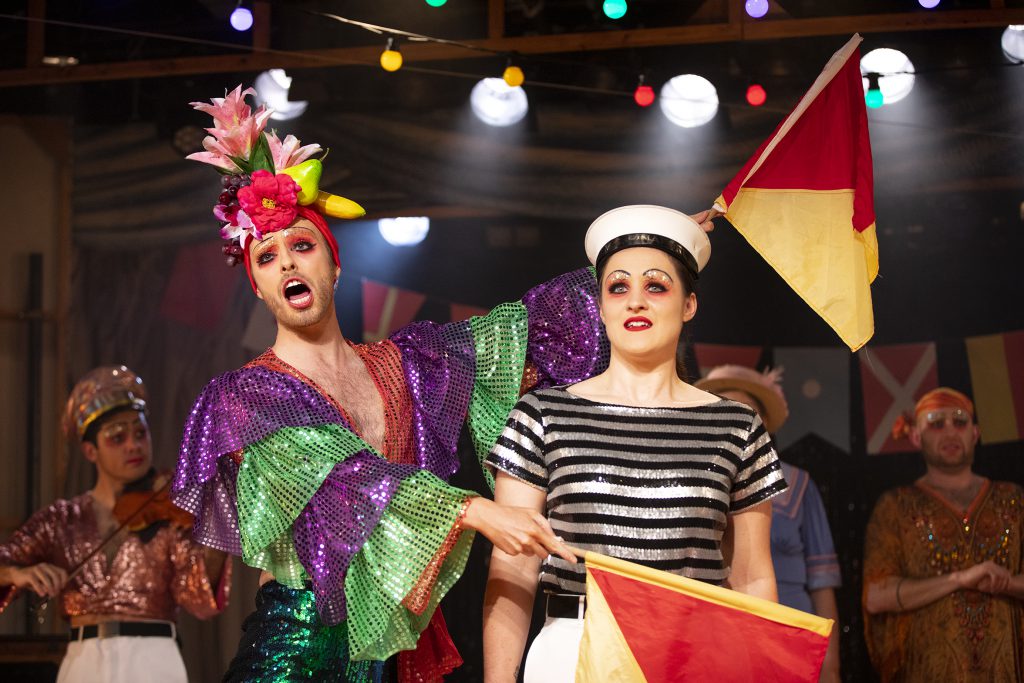 Sir Joseph Porter enters, naked to the waist and covered in streamers, so the Mardi Gras is clearly still in progress on shore. In the face of the gender blender, the audience resigns itself to enjoying the romp at its own level. Tobias Cole as Captain Corcoran easily straddles both this style and the social satire of the original, a neat feat.
Musical Director Zara Stanton, assisted by cast members on instruments, has done a wonderful job in bringing the score to life. The overture is a little wobbly, but from there on it is a treat for the ears. In a wonderful 'innovation', the singers are unamplified.
Production Designer Melanie Liertz has created a flexible space, echoing a Victorian toy theatre that accommodates changes of scene and allows for a big finale with streamers, beach balls, coloured lights, a Carmen Miranda wig, false moustaches, coloured curtains and acres of tattoos. Lighting Designer Fausto Brusamolino lets loose and many of the audience loved it.
Whether or not this production succeeds is a matter of individual taste, given the rich mix on offer. It is ultimately a bold experiment, somewhat at sea.
By the way, a pinafore (or 'pinny') is an overgarment, sometimes worn in kitchens – not an undergarment, as the programme tells us. But who's counting?