Limelight on Oxford's take on Kafka has its moments, but perhaps not as many as it would like.
On the opening night of Joseph K, in the boxy upstairs Limelight theatre, there sat a gentleman to my right. A shaggy feline character, looking like the progeny of Beethoven and his cat, it can be said beyond doubt he enjoyed this play immensely.
I have never seen such prodigious throes of rapturous oddity. Repeatedly, he toasted the players with an enormous glass of red wine, a long, graceful arm stretched out in inebriated salute. When a comic idea was struck, he shook with paroxysms of silent laughter, hunched in a tight bundle of helpless mania to the side. When an arrestingly beautiful actress appeared, he leant forward in his seat and gasped. For scenes oiled with dark satire, he performed a lone, magnanimous, sarcasm-free slow clap.
This reviewer was less moved.
Directed by London-bred Sean O'Riordan, Joseph K is jarring, tortuous and strange. To be fair, that's what it was aiming for. A contemporary adaptation of Franz Kafka's The Trial, it uncannily dramatises the individual imprisoned within a vast, impersonal system, where vacuity and menace intercoil, and the remote tyranny of bureaucracy is both omnipresent and invisible.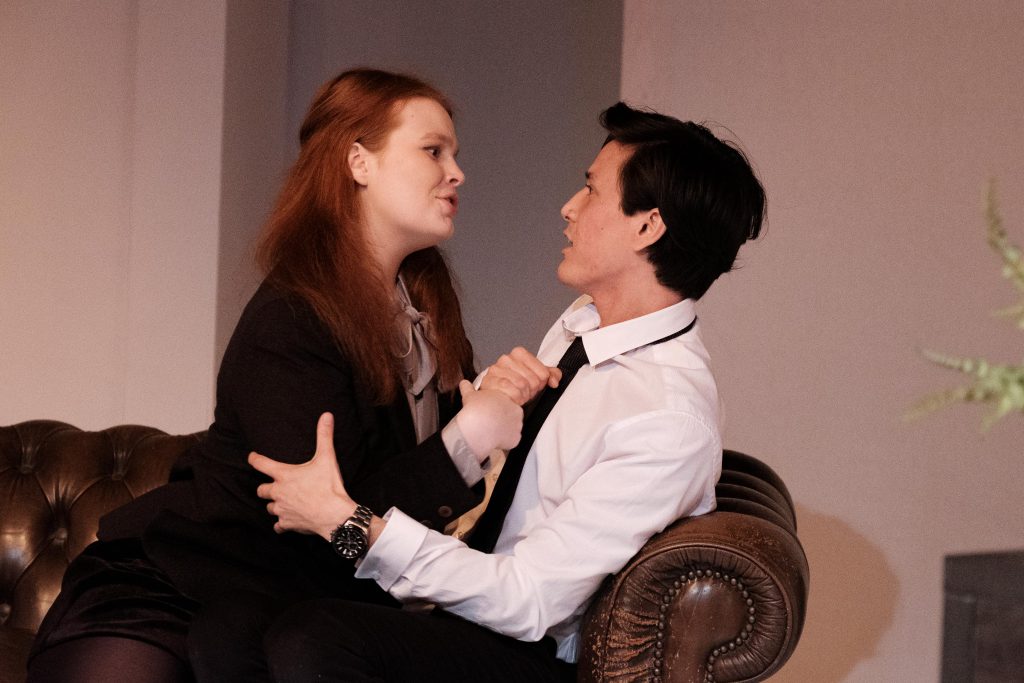 Senior banking staffer Joseph K is our protagonist, who in the first scene is arrested wearing only a towel by a pair of volunteer cops. They give him neither reason nor handcuffs. They also eat his sushi.
While at first he thinks it's an elaborate piss take, the next day his phone has stopped working and he can't leave the country. When he tries to find out the nature of his crime (murder? A parking offence?), or confront his unknown prosecutor, he only further entangles himself in the mire of red tape, professional incompetence and stealthy opportunism. His career and grip on reality begins to fall apart.
When he tries to dispute his arrest, for instance, he is told the office "does not log wider problems," and ends up registering an inconsequential complaint about the sushi theft instead. Days later, in a scene of insensible horror, he finds this thief, the arresting officer, being whipped in his own cupboard.
Tom Basden's script feels like a great story, and perhaps as read on the page it is, or if it were handled differently, it could be. But unbalanced talent, an relentless high-strung tone, an overcommitment to the bizarre and an overreliance on dialogue meant the production fell short in its homage to the Jewish literary great.
Feeling discomforted by a piece of art can be a good sign it's working. But it has to be the right kind of uncomfortable. This weird horror comedy more seemed to zealously exploit the trending zeitgeist of paranoia, resentment, alienation and conspiracy spreading through the working world.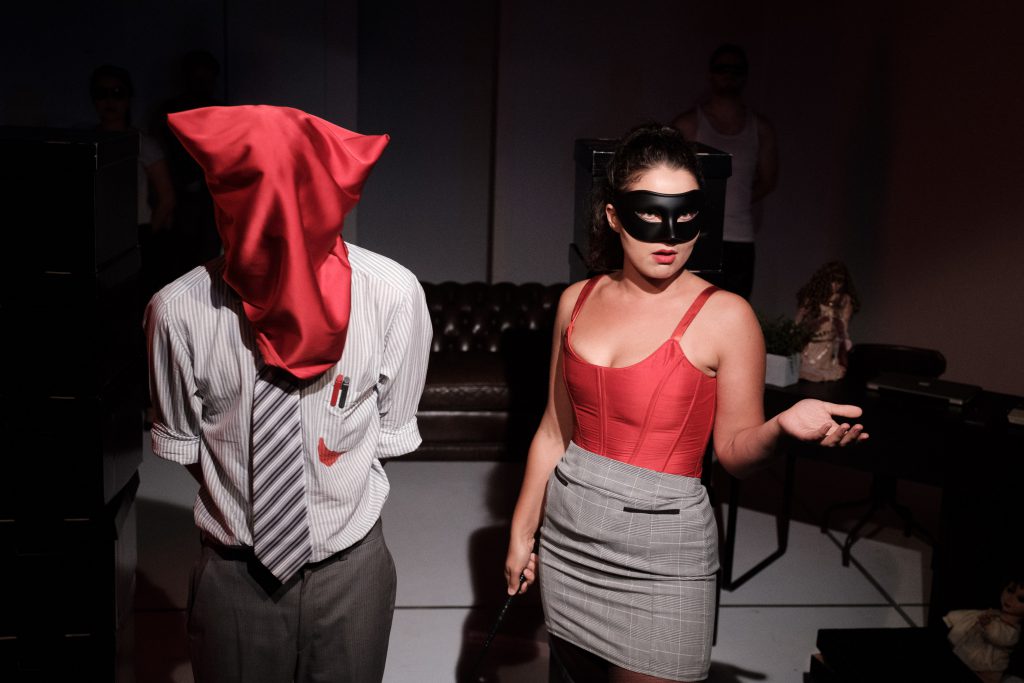 Not that the play was without its enjoyable moments. Piercing the main plotline were short vignettes, some of which were fanged for satirical bite. The constantly recalculating sat nav – which sees Joseph obeying an alien, remote voice into a winding labyrinth of unfamiliar terrain and wasted time – is a fantastic metaphor, for one.
With a large cast of 10, it was easy to pick the standouts. Tim Kemp, who alternately plays the tyrannical doll-obsessed lawyer Ian and a coarse glazier named Bear, deserves to be seen elsewhere. So does the vivacious Elouise Eftos, who seemed the only one proud enough to truly own the post-show applause. Phoebe Heath, who plays Leni, Ian's enslaved unpaid intern for six years, wonderfully captures her ingenuous, sex-deprived character. Happily, she'll be moving on soon to starting rehearsals for Belfast Girls in Canberra.
One of Kafka's greatest legacies was his ability to give shuddering affect to the existential horrors of institutionalised incoherence. Placing man inside a sedulous, ever-expanding network of multiplying meaninglessness, he shows how easily the self can be manipulated, beaten down and ultimately broken when purposeful action has no effect.
If nothing else, Joseph K makes me want to read Kafka again.