Tom Wells' FOLK is a heart-warming and humorous tale brought to life by a great lead performance and an even greater production design.
The play opens with Stephen (Gerard Carrol) playing the guitar whilst Sister Winnie (Genevieve Lemon) downs pints of Guinness and eagerly sings along. The performance is soon interrupted, however, when a vagrant, fifteen-year-old girl by the name of Kayleigh (Libby Asciak) lobs a brick through their window. Kayleigh is invited in by Winnie, who appears eager for companionship, as she requests that Kayleigh return another night to play music with her. The story takes hold from here as the trinity form a tight-knit group seeking to share their passion for folk music by hosting an Easter concert.
There is no doubt that Lemon is the star of the show here. As a pious nun who knows the patron-saints of any given object yet at the same time is a seasoned drinker and a self-confessed nicotine addict, this humorous dichotomy and eccentricity combine with an unavoidable likeability to make her a memorable character. Moreover, Lemon's depiction of Winnie as a strong woman who maintains these outward appearances despite subtle suggestions that she faces internal anxieties relating to her future is second to none. Her chemistry with the young Asciak is also good, serving as an excellent platform for fleshing out both characters; something particularly necessary for Asciak's mixed, at times underwhelming, performance.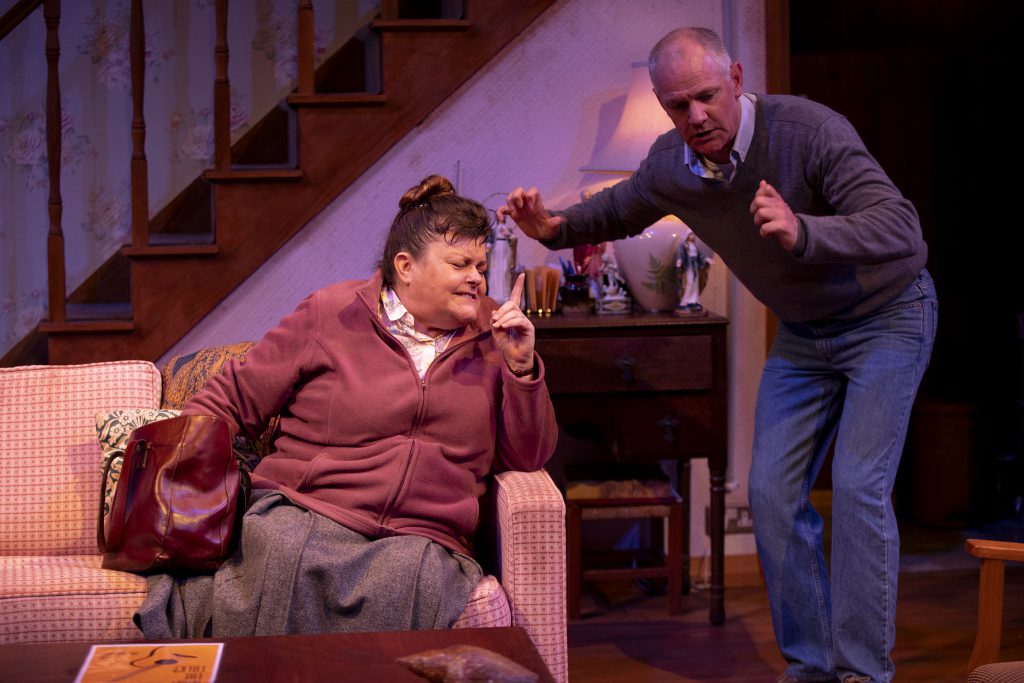 Unfortunately, Carrol doesn't quite reach the same mark. He can't seem to reconcile Stephen's cynicism, ebbing and flowing in an unnatural, erratic fashion; at one moment he appears depressed and insipid and the next he is brimming with delight as he expresses that he made a frittata. These sudden and unexplained shifts in Stephen's attitude confuse the audience. Further, unlike Winnie and Kayleigh, Stephen doesn't develop much as a character over the course of the performance. We get some degree of character development by way of a revelation towards the end, but this comes too late and does little to enhance his character in a meaningful way. This tells us that Wells' plot, for all its strengths, does run the risk of falling flat when Carrol's talents aren't as utilised as they could be.
From the technical side, FOLK isn't a musical, but musicality is one of the show's most interesting elements. It acts as an overarching motif and enriches the setting of the play, with its lyrics conjuring romantic, Wordsworth-esque imagery of country English living which the writer, Tom Wells, is so intimately connected with. Guitars, Irish penny whistles, and even spoons are used as instruments to create the rich folk sound which imbues the play with much of its meaning and provides a unique listening experience to complement what we see on stage. Credit to director Terence O'Connell for creating such wonderful soundscapes.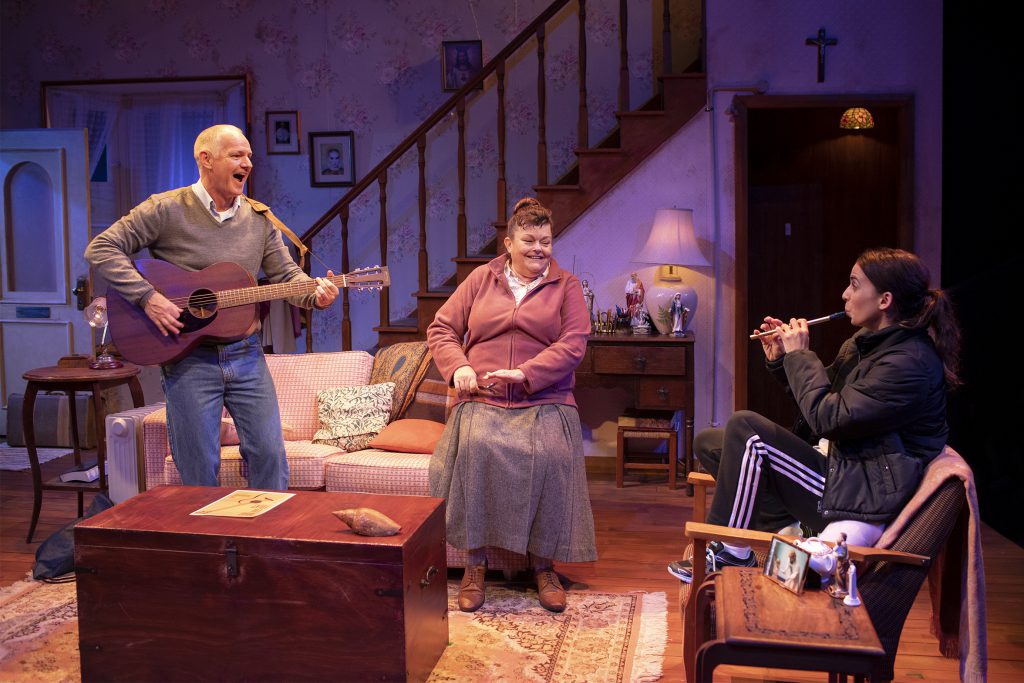 Finally, the set (courtesy of Hugh O'Connor) and lighting (by Trent Suidgeest) deserve to be commended. Sister Winnie's living room looks lived in and exudes authenticity. The scene is masterfully decorated with classical country English cottage wallpaper, clay saints, warm yellow lights, religious paintings, wooden crosses, a rug, and a well-worn couch. Such charm aids in further exemplifying Sister Winnie's character and the underlining, unique folk influences of the play. The lighting is also well thought out and is frequently adjusted to align with the emotions experienced by the characters as the events of the play unfold, affecting our experience in subtle but nuanced ways.
Ultimately, despite some issues, Folk is an excellent play and a highly watchable piece. I would recommend the show to anyone, but I imagine those with a firsthand experience of the English country, or an interest in folk-music, would be especially captivated by the play.