Far from clear cut, 'Extinction of the Learned Response' by Giltterbomb and 25A presents a raw and confronting look at what constitutes our humanity or, indeed, our inhumanity.
Usually, performances have a connecting human element which makes the themes and ideas it is trying to espouse broadly accessible. Yet, this play decidedly refuses to engage with these, creating something that feels truly unique and special but not entirely clear-cut. This is what makes the play quite difficult to interpret, feeling like an inverse interpretation of traditional morality that feels markedly foreign. If one were to visualise that inverse intrepretation, it would look like separate but interconnected strands that have to be pieced together by the audience.
However, this isn't necessarily a bad thing.
The play, directed by Carissa Licciardello, explores control, trauma, memory and truth, aligning it most closely with the dystopian genre. It centres on the evolution and interactions of four characters: Duncan (Tel Benjamin), Marlow (Jennifer Rani), Rachel (Sarah Meacham), and Wells (Eddie Orton). Duncan, an unabashedly cruel and traumatised researcher, is working on an experiment with his by-the-book partner Marlow. The subjects of the experiment are (supposedly) animals that have been reconstructed to be human-like and taught how to be humans, wherein once completed they can be 'released into the wild'. The subjects, Rachel and Wells, learn coordination, emotions, and speech prompts to coincide with this. The name Wells is an allusion to H.G. Wells, who wrote 'The Island of Doctor Moreau' – a text which shares similar foundational ideas regarding the creation of human-animal hybrids through vivisection and experimentation.
However, the plot is far more deceptive than it seems. The performance plays with the fragmentation of memory, as not even the researchers can clearly remember their past. Suppressing their emotions both internally and externally, this begs the essential question as to which group of the two is the most human. As tensions over the meaning of humanity simmer, unethical behaviour is actioned and lies revealed, culminating in a dramatic end.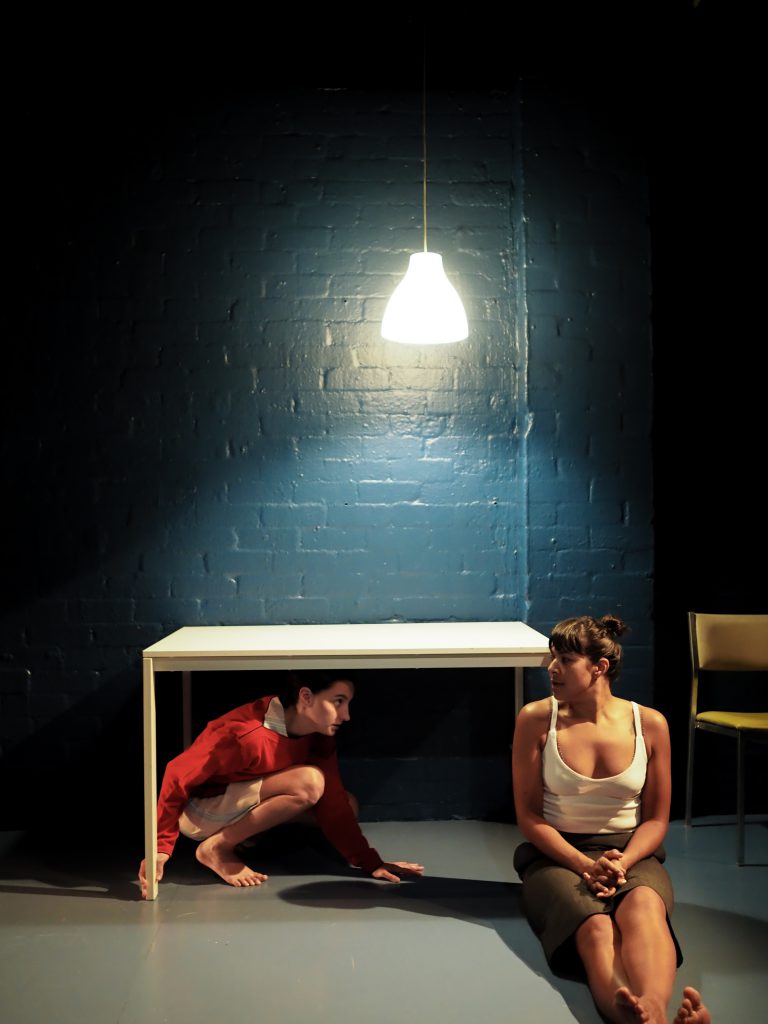 The execution of this very ambitious play was generally very well done, with almost every element feeling like it just worked. From a visual perspective, frequent black-outs and semi-sensory deprivation worked to great effect in cementing the often-confronting scenes that the audience had just witnessed. Even in the darkness you could sense the nervous ticks from the audience trying to digest what they had just seen. The use of Belvoir's intimate Downstairs Theatre, made accessible thanks to 25A, was a deft choice, creating such a mood.
Further, despite playing rather inhuman characters, I found the performances of all four actors to be very convincing, adding to the rawness of the piece with each adding their own individual contribution to a gripping play. Indeed, it is important to note the skill required to maintain the high level of tension that this piece requires throughout. In keeping it so, the actors all deserve immense credit for giving playwright Emme Hoy's script the power needed for it to be successful.
Ultimately, this was a confronting performance, but one that I was very glad to have watched. Skilfully constructed, it is a hauntingly thoughtful reflection of humanity, and certainly deserves an earnest viewing.