Sleep, party, confession, repeat.
Lane Cove Theatre Company's Bare: A Pop Opera (book by Damon Intrabartolo and Jon Hartmere Jr., with music by Intrabartolo, lyrics by Hartmere, and directed by Kathryn Thomas and co-director Isaac Downey) explores the longing to fit in, the consequences of secrets, and growing up.
Set in a co-ed boarding school, Bare revolves around a group of high school students struggling with sexual identity, faith, popularity and mental health. With such themes ever so relevant to our current social climate and with a lovely cast performance to boot, this really is a great piece of community theatre.
The first character the audience meets is Peter; the adorkable, closeted teenager, played remarkably by Mackinnley Bowden. Bowden's vulnerability and vocal maturity is clearly evident, and as the more his nerves settled, the more believable his character became. His ability to balance Peter's comic and serious moments was well-handled, as was the passionate romance between his character and co-lead, closeted popular kid Jason (Matt Shepard). Shepard unfortunately had some consistency issues with his vocals, but nevertheless his solo "Once Upon A Time" was heartbreaking and left the audience quite emotional. I commend Shepard for being so vulnerable in this scene and I would encourage him to incorporate those skills throughout the entirety of the show, when appropriate.
The complicated queen bee, Ivy, was encompassed with a quiet bravado and abundant skill by Edan Mcgovern. Mcgovern's acting skills were a clear highlight in the show, and her scenes with other students – specifically the frenemy and larger than life Nadia (Lucy Koschel) or hopeless romantic Matt (Christopher O'Shea) – demonstrated a solid understanding of the text and interpersonal skills. Audience favourite Carmel Rodrigues as the bold and brassy Sister Chantelle had a terrific vocal belt, and when partnered with her comic character, gave the audience moments of catharsis between some rather confronting scenes. Although some dance numbers (courtesy of choreographer Emily Dreyer) between these cast members felt under-rehearsed, the comradery and commitment of the ensemble to character was evident and was beneficial to an engaging and touching story.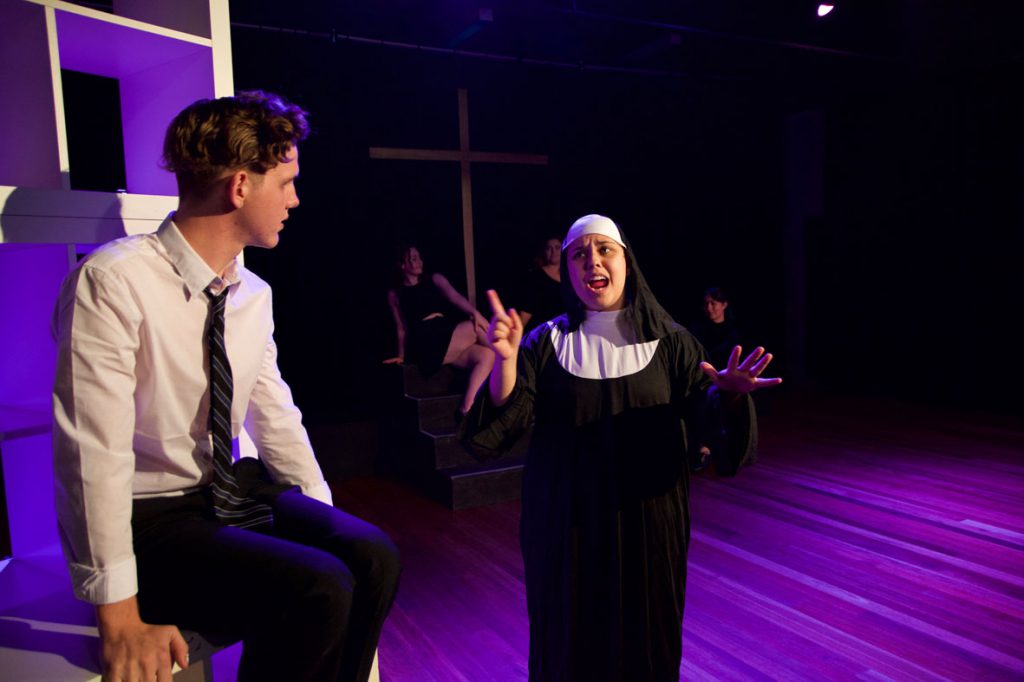 Further, whilst some musical numbers where not pitch perfect, the ensemble harmonies in the opening number "Epiphany" and the final number "No Voice" were beautiful, and when done well, demonstrated the technical capabilities of the cast and the skillful musical direction of Steve Dula. The minimalist band set up, including an electric drum kit (courtesy Brendan Paul), box drum and a keyboard, worked well in such an intimate space and the cast learnt to project their voices well without the use of microphones – however, they should watch out for straining in moments of intensity on stage.
Unfortunately, the passion and skill of majority of the cast where let down by inconsistent and distracting lighting and some unclear directorial choices. The minimalistic set acted as an obstacle to overcome, rather than encouraging a creative use of the Performance Space Longueville's small stage to further engage the audience. I do have to question some blocking choices as well, with some key moments missed due to the first row of seats cutting off the majority of the audience's view of the downstage area. Most notably, a bold directorial choice involving partial nudity was made at the end of Act One which was rather unexpected and functioned only for shock value, not doing much (if anything at all) to help the story progress.
However, despite such complications, co-directors Thomas and Downey show solid promise with this production – successfully touching the audience and challenging pre-determined opinions about our LGBTQ+ youth and the role of religion in a secular society.