Photographer William Yang takes us through the unique history of Sydney's queer culture with flamboyance, melancholy, and a whole lot of whips.
When I used to live with my grandmother, the television was only ever on SBS. Despite both our familiarity with the salacious subject matter that graced our screen after 10 pm, even when I was out of the room I always knew when a rogue penis reared its head, as an almighty 'JESUS WEPT' bellowed across the house.
Luckily my grandmother was not in the crowd at William Yang's Party (Verb), less the show be punctured with similarly horrified yelps throughout. However, those familiar with Yang's work – a playwright-turned-photographer whose work captured the emerging queer culture in Sydney during, the 70s, 80s and 90s – would hardly be surprised to see a full-frontal nudie.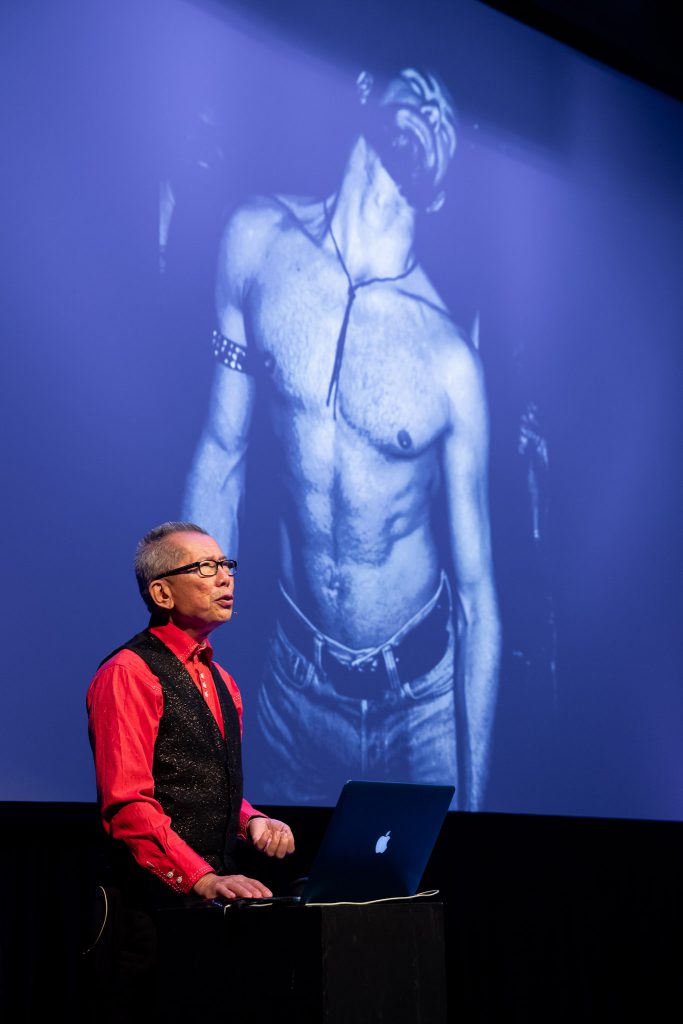 Alongside narration by Yang himself, Party (Verb) showcases his archived photographs of Sydney's queer parties and events throughout the decades. Naturally, there's a lot of thongs, perfectly sculptured bums, cocaine, pubic hair, drag, whipping, nipples, and leather.
Yang begins his show with a concession: "I didn't have sex with a man until my mid-twenties".
"LIAR!" a brave audience member yells out.
The audience erupts with laughter.
He waits for the laughter to die down, and retorts "I would know."
Enormous laughter once again. Unfazed, Yang returns to his story.
We begin in the mid-70s, and are introduced to prominent personalities and party places that dominated the scene. While I'm being introduced to these faces for the first time, there are others in the audience who instantly recognise the faces that flash onto the screen.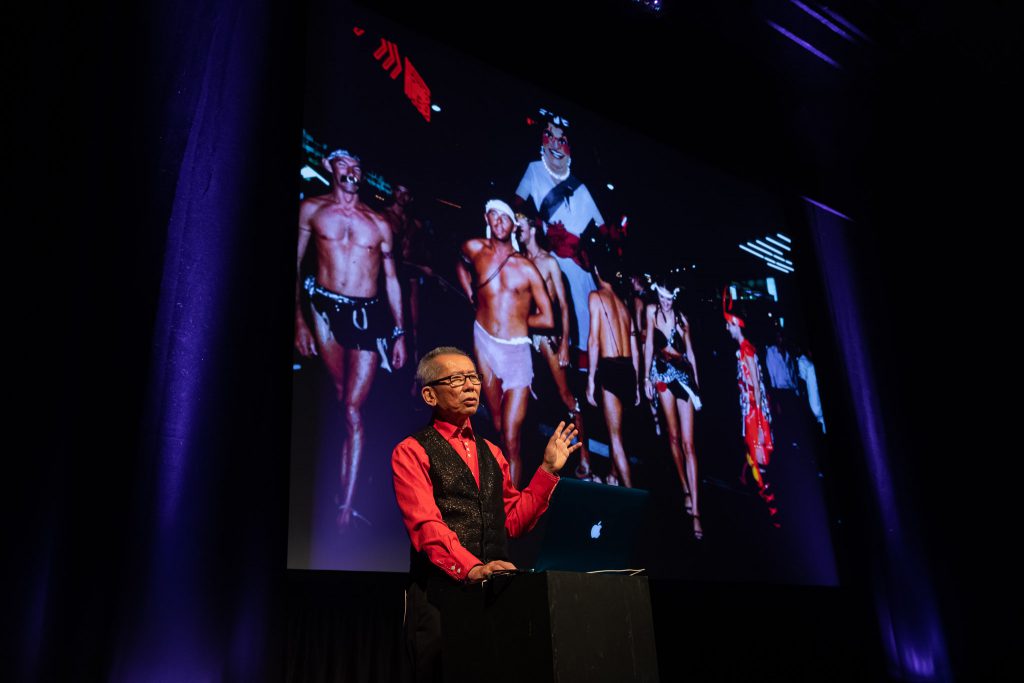 "Oh, look, it's Frank!" someone across the theatre exclaims.
"Mhmm, there's Jack," a man in the row behind me whispers.
As we work our way throughout the 70s and 80s, glimpsing into the wild parties and even wilder personalities (timestamped with a few cheeky, smiling portraits of Yang himself), we then emerge into the 90s and the AIDS epidemic.
The once jovial audience is now hushed as they learn that the personalities they've come to know over the last hour are no more, including Yang's past lover, Allan Booth.
"During this time, I went to more funerals than parties," Yang confesses.
It's absolutely heartbreaking, and the ache in the audience is palpable.
Not to end on a somber note, Yang then takes us through his journey of photographing the Asian-queer community, and his portraits to 'sexualise the Asian body.' Certainly no cocaine or pubic hair, but an endearing finish nonetheless.
For better or worse, the performance revolves around fluctuation. In some cases, however, a little more stability would have been appreciated.
Yang's delivery was awkward at times, occasionally stumbling over his dialogue in a display of either unpreparedness, stage fright or both. Whilst I considered it a charming and humanising touch, others may feel differently.
Further, the soundtrack, live scored by Stereogamous, was able to satisfactorily complement the ever-present visuals with relevant music but did distract the audience at times with its volume. Rather than thinking 'Wow, that's a great photo', there were definite moments of 'Gosh, is this music too loud? Am I getting old?'
My lovely supportive husband was quick to inform me that that is indeed the case.
Nonetheless, for many people in the audience, this was a trip down memory lane. For others, like me, it was a chance to experience an underground culture that we would otherwise not be privy to. It felt like someone had invited me into their life, and I was able to take a guided tour through the parties, the infamous personalities, the heartache and the outfits – oh, the outfits – all before hopping on the ferry back home with the bellows of my grandmother firmly in my mind.