The world of the workplace is well-known to be a hotbed of office politics, jealousy, anxiety, ambition, and apathy. The Outhouse Theatre Co. brings it front and centre in their ambitious play, Gloria.
Gloria initially comes off as a good comedy-sitcom, not unlike The Office or Utopia. There's bitchiness, gaslighting, unreliable employees and a big dose of office politics amongst those who don't have much to do. Gloria opens with assistants Ani (Annabel Harte), an optimistic twenty-four year old with a neuroscience degree, Miles (Justin Amankwah), an intern who has almost finished his term, Dean (Rowan Witt), a twenty-nine year old secretly seeking an out, and Kendra (Michelle Ny), an inherently competent person who is nonetheless late and does no work. The dynamics of these characters together in an office environment makes for a good show as we begin to discover individual's motivations for essentially staying in a monotonous underpaid job.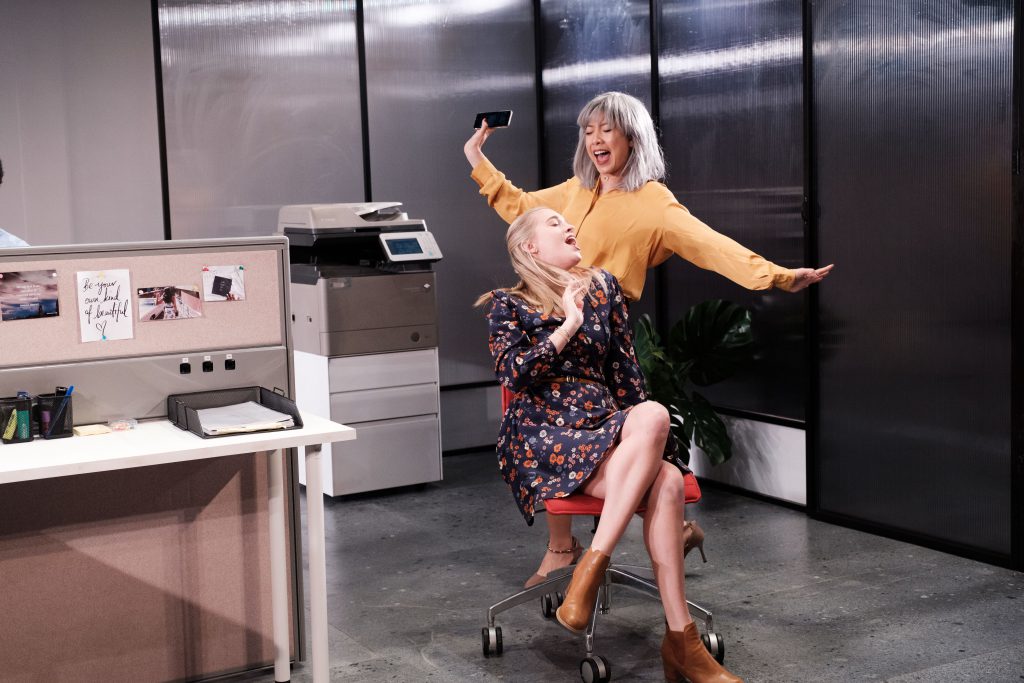 When tragedy strikes the office, individuals are forced to re-evaluate how they are complicit or at the very least how they can move forward. Books are written, TV scripts drawn up yet it's obvious that virtually no one has been able to healthily process the lessons that needed to be learnt. It is a sombre tale, but one definitely worth the watch. One gets the immediate impression that virtually everyone in the audience could empathise in some way with many of the toxic aspects of the workplace brought to light by this production.
The production itself was very well executed. The ability of the actors, particularly in their versatility, was a significant highlight of the play. Actors were often playing at least two characters through the performance – no mean feat. Despite appearing very similar to their other characters (no wigs, only very superficial costume changes) there was a very clear distinction between the two. They simply just got the details right in this production, from bringing a dialect coach (Amanda Stephens Lee) on board that brought very convincing New York and LA accents respectively, to having a very realistic cubicle office and kitted out Starbucks.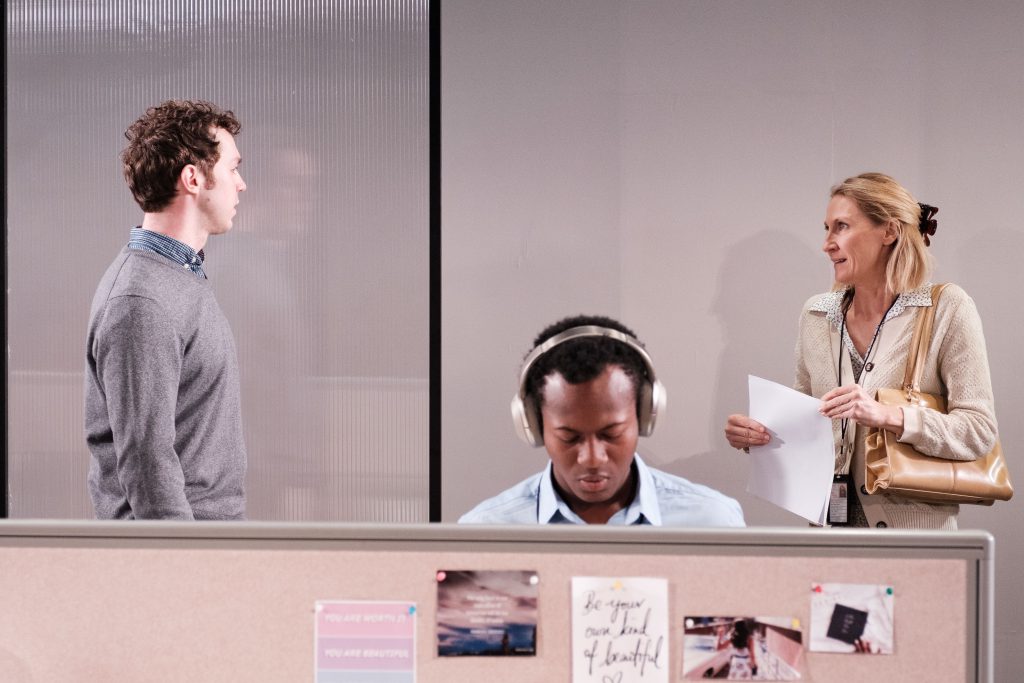 That being said, playwright Branden Jacobs-Jenkins' writing itself did present some dull moments in the first half. You got the impression that only some of it was important for character and general story development, but the rest didn't really add much, failing to capture the sustained attention of an audience. From the second half however, it radically improved and showed itself to be a powerful piece of theatre, revealing the need to deal with the raw truth for individuals, not what society or others that hijack the narrative. This dialectic struggle was very well portrayed by Lorin (Reza Momenzada) and Nan (Georgina Symes).
Overall, I really enjoyed this comedy-drama piece of theatre. The actors deserve a lot of credit for being able to adeptly execute an emotionally complicated story. Hats off to Director Alexander Berlage and the Outhouse team for pulling off such an insightful and moving play.