Good theatre makes you feel something, and in this case that something is discomfort.
'Kings Cross Theatre puts on work that pushes boundaries, but Mercury Fur requires an additional content warning,' we are told as we are ushered into the KXT waiting room. We are then notified of the adult concepts, themes, descriptions of violence, racial slurs, drug use, and descriptions of suicide, pedophilia and sexual violence in the play. Oh, and there would be herbal cigarettes and smoke haze used too.
Clearly a show for the whole family to enjoy.
'If you think you will need to leave the theatre during the performance, you are advised to sit near the exit,' the warning continued.
Understandable, since east London-born Philip Ridley's controversial play is no stranger to walkouts, allegedly experiencing many during its initial run in 2005. Set in an apocalyptic, but not-too-distant future, where violent gangs rule in the lawless society, those who are left living must do anything they can to survive.
Anything.
'Not for the faint-hearted,' I had read somewhere. As someone who still cries when Mufasa dies, god did I feel right at home watching this ballsy collaboration between bAKEHOUSE Theatre Company and White Box Theatre.
I take my seat in KxT's intimate performance space and see that everything, from the tumbled couch on the stage to the polystyrene strewn everywhere and even the peeling paint on the roof, is off-white. It's a mess, suitably apocalyptic for the challenging content about to play out over the next 110 minutes.
Enter Elliot (Danny Ball), illuminating the stage with torchlight, quickly followed by younger brother Darren (Jack Walton), who's found the spot after some graphic instructions. 'See the dead dog? Step over it and turn left,' Elliot calls out. Grim.
It's clear that the relationship is close but strained as Elliot berates his younger brother for taking the hallucinogenic drug of the times that seems to erase all memories; butterflies. I'm immediately reminded of John Steinbeck's Of Mice and Men; Elliot is akin to George, the frustrated, educated guardian who can't help but care for the hapless but lovable Darren, the Lennie of the duo.
The two are setting up for a party when young neighbour Naz (Meg Clarke) waltzes in and offers to help after learning that Elliot is the infamous 'butterfly man', who deals narcotics from an ice cream van.
A palpable tension now develops, as the characters explain that everything needs to be perfect before their ringleader Spinx (Michael McStay) arrives with his party guest. Enter Lola (Janet Anderson), with a bright gold Elvis costume she's made; it's for the 'party piece' (Lucia May), which raises more questions than it answers. Who is the party guest, what is the role of the 'party piece', and why are they all so afraid of Spinx?
We soon learn that in order to survive this apocalyptic hell-hole, the brothers, with Lola and Spinx, put on parties for wealthy guests to live out their wildest fantasies without consequence.
When a meat hook was taken out of a bag, clearly intended as a prop for the fantasy involving the unconscious, gold-adorned 'party piece', I wasn't the only one to squirm uncomfortably in my chair.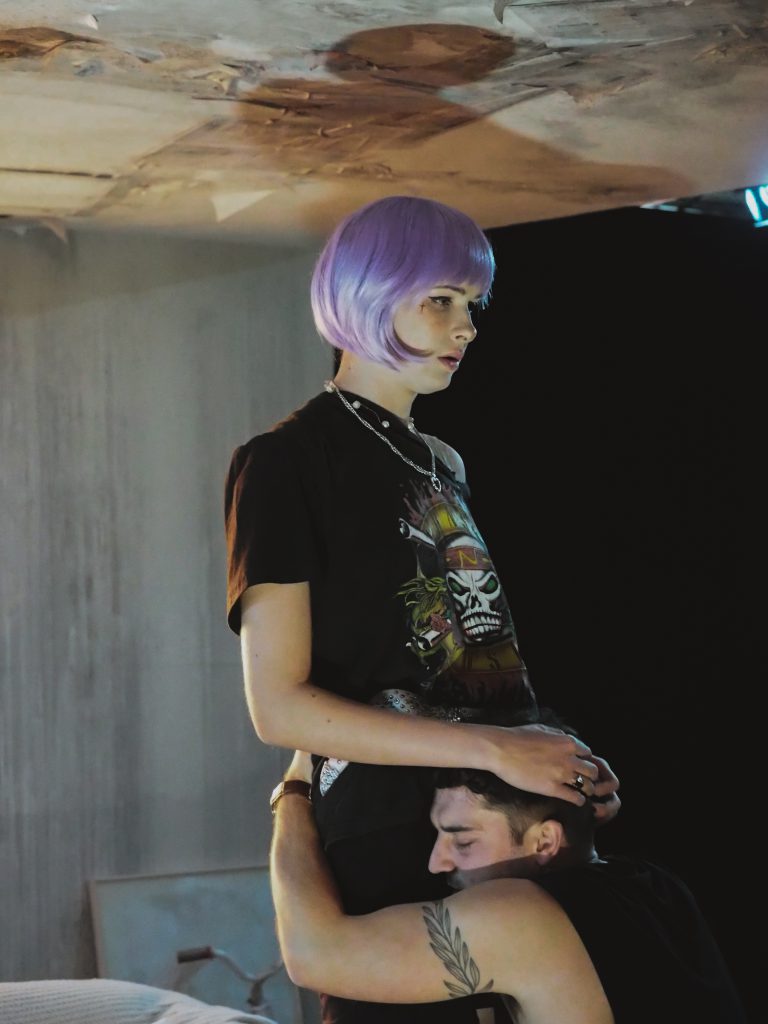 Ball and Walton perform their complex brotherly relationship down to a tee; there's simultaneous frustration and love in their dynamic and they dance around the two beautifully. I was utterly convinced by Walton's doe-eyed, helpless performance, darting from hysterically high to startlingly sober. Ball, who also co-produced the piece, was equal parts tough and tender; he clearly loves his brother, and will do anything to keep him safe.
I say again: Anything.
But he loses his patience often.
Ridley's script is foul and racially-charged, but rather than being shocking, it feels like a thesaurus of potty-words is strung together to create a half-baked insult. A good cuss word can cut right through when used well, but swearing for the sake of swearing feels tired and boring. Nonetheless, there were constant audience chuckles (albeit without a contribution from me).
Clarke's portrayal of the hyper-manic Naz, however, had me in stitches. For a piece that's so dark, she gave it so much light; her performance is a real highlight. The energy that bounced in her scenes, particularly when butterfly-addicted Naz and Darren were left to their own devices, contributed to her both hilarious and heartbreaking nature. Being the only character I felt an emotional connection with, the ending (which shall go unspoiled) became so much more resonant as a result.
I found McStay's portrayal of the ringleader Spinx fascinating; coming across as something akin to an early 90s Marilyn Manson, no wonder the rest of the crew were scared of him! He, just like Elliot, is doing whatever it takes to protect the ones he loves and I truly believed his character pivot in the end. Aside from a few infrequent accent inflictions, he was perfectly manipulative.
Anderon's Lola was quirky and likeable – despite the atrocities she is involved in – and Josh McElroy's amoral party guest made me so sick to my stomach that I avoided him completely at the post-show drinks for fear I'd tell him how much I hated loving his portrayal of the sick and twisted part of the human mind.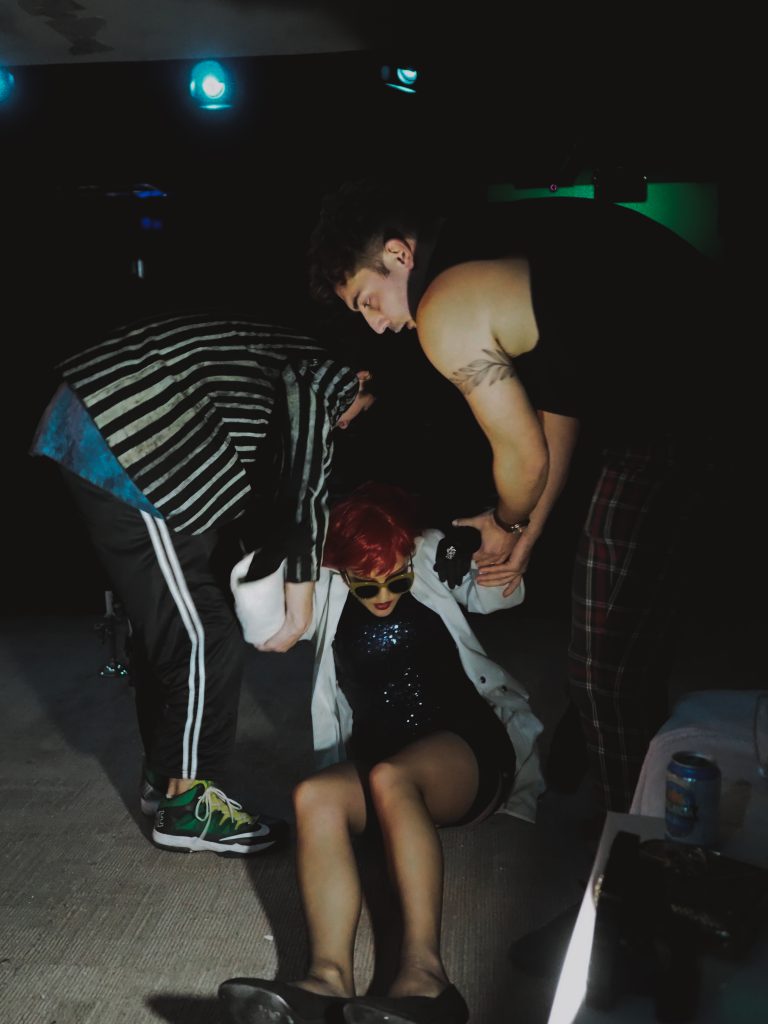 Director Kim Hardwick took multiple risks with this show, but each character was strong, and for such a dialogue-heavy performance there were no (obvious) missteps. The low-level lighting, seen over by Lighting Designer Martin Kinnane, contributed to my anxiety in a good way. I'm also always impressed with a show that cleverly uses a single set, and moreso when the space that doesn't exist gets used; with a whole lot of stuff happening offstage, especially the super hectic, gory bits that I'd been bracing for, I love the fact we are left to imagine how those moments play out.
Yet, for all of Mercury Fur's strengths, the use of herbal cigarettes brought everything slightly down. Encased in the small performance space and breathing in foul-smelling smoke for the final half hour of an already-tense performance had me feeling all types of nauseous. Whether or not that was the point, I am not sure whether the pre-performance warning was sufficient enough.
Ultimately, good theatre makes you feel something, and in this case that something is discomfort; which, judging by the gasps, eye-covering and seat wriggles, pretty much every audience member was feeling. Ridley himself, by contrast, considers this play far from being a perverse piece about the dark side of the human psyche; rather, it's a play about love. And that some people will do anything for love.
Anything.