David Willamson's award-winning play about a cross-dressing footy player could really have highlighted the problematic issues surrounding toxic masculinity and homophobia in Australian sport, the gross power of manipulative, money-hungry managers, or the inner dirty laundry that hides behind the perfectly curated Instagram feed. Lane Cove Theatre Company somehow manages to all miss these marks.
Brent Lyall is a powerhouse AFL player at the top of his game. He's got everything; two Brownlow medals, a beautiful model for a girlfriend, and a 30-million-dollar contract.
All he doesn't have, it seems, is the charisma to sell endorsements – which his money-hungry manager Rohan is not happy about. He hires psychologist Jessica to unlock whatever is blocking Brent's ability to sell sell sell; what she uncovers is Brent's fetish for putting on designer women's clothing.
He's not gay, we're reminded time and again. He's just channeling his alter ego Carmen, who Jessica encourages him to explore. This is all to the fury of Rohan, who wants this secret to stay in the closet with the rest of the Versace.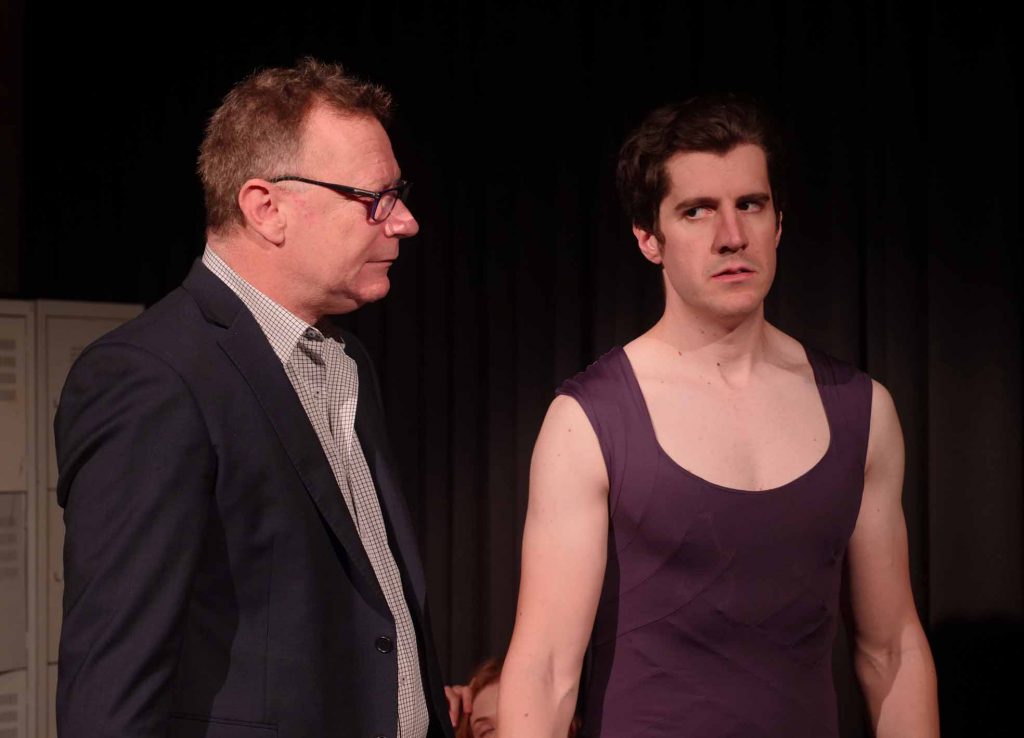 Director Isaac Downey has a clearly talented cast in Lane Cove Theatre Company's production of Managing Carmen, and David Williamson's script certainly has a lot of great lines in it. However, the whole thing feels a bit like a parody of otherwise important issues surrounding money, power, identity and bigotry, with little genuine chemistry between the cast.
Stephen Dula brings a ferociousness to manager Rohan Swift straight off the bat, really bringing to life the foul-mouthed script. There's a few hiccups in lines his throughout, perhaps attributable to opening night nerves. However, forgetting the line that mentions the name of the football star you're managing – 'oh, whatever his name is' – and then berating the poor psychologist for not knowing his name = 'How do you not know him?? Where are you from, Goondiwindi?!' – certainly raised an eyebrow.
(Also, it's pronounced 'Gun-diwindi', not 'Goon-diwindi'. There were furious whispers permeating the row behind me, no doubt from people who have either been to 'Gundy' – or, like this reviewer, lived there.)
Cam Ralph introduces us to main character Brent with a (deliberately) terrible TV endorsement, and it's very funny. It's true, he's got the charisma of a wet sock, and that's not going to sell health supplements. You can't help but laugh. The real highlight of Ralphs' performance might have been him pulling of a skimpy dress as Carmen though; whoah, legs for days gal, legs for days. There's clearly a lot…
of character growth, and Ralph is probably the only character that goes on any kind of journey and experiences any real change.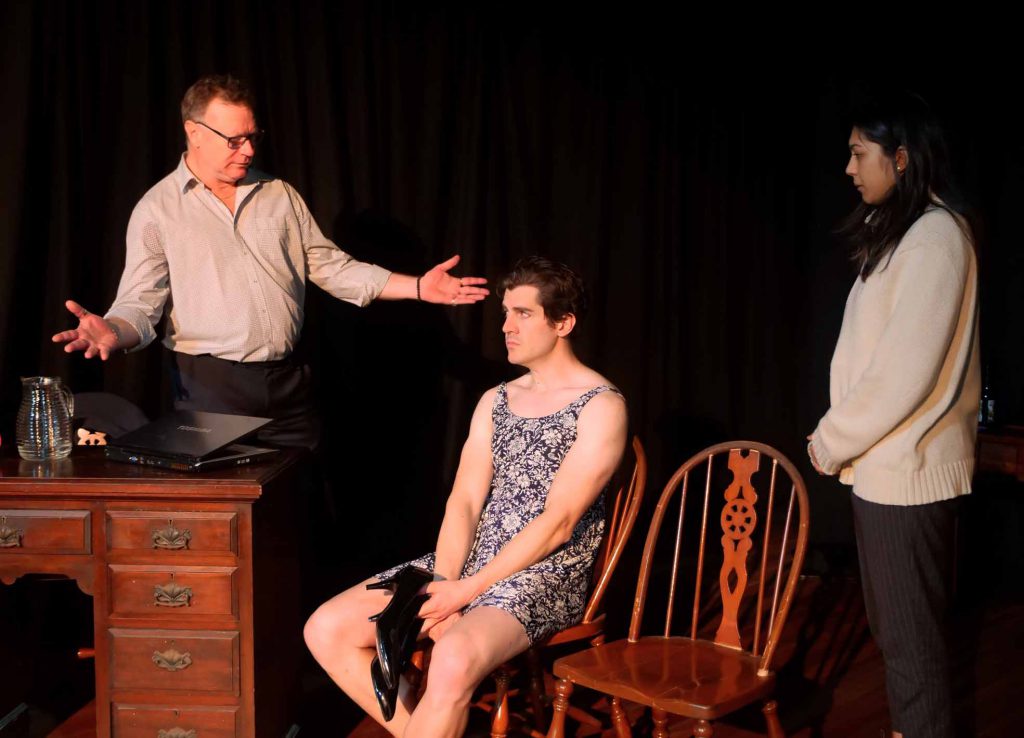 Angelica Madani plays the psychologist who tries to help Brent and (spoiler alert) eventually falls in love with him. It's not really a spoiler though, because the script painfully spoonfeeds the plot to the audience – despite there being absolutely no chemistry onstage between Madani and Ralph. Ever. Indeed, when he propositions her initially, she's as horrified as the audience. He's a disgusting sexist pig who wants to root her after knowing her for what, a day?
He says she's rejecting him because he wears women's clothing.
I scream internally.
'Yes, that's it,' Jessica states. 'I like you a lot, but wearing women's clothing is too much.'
Ugh. This play is definitely written by a man.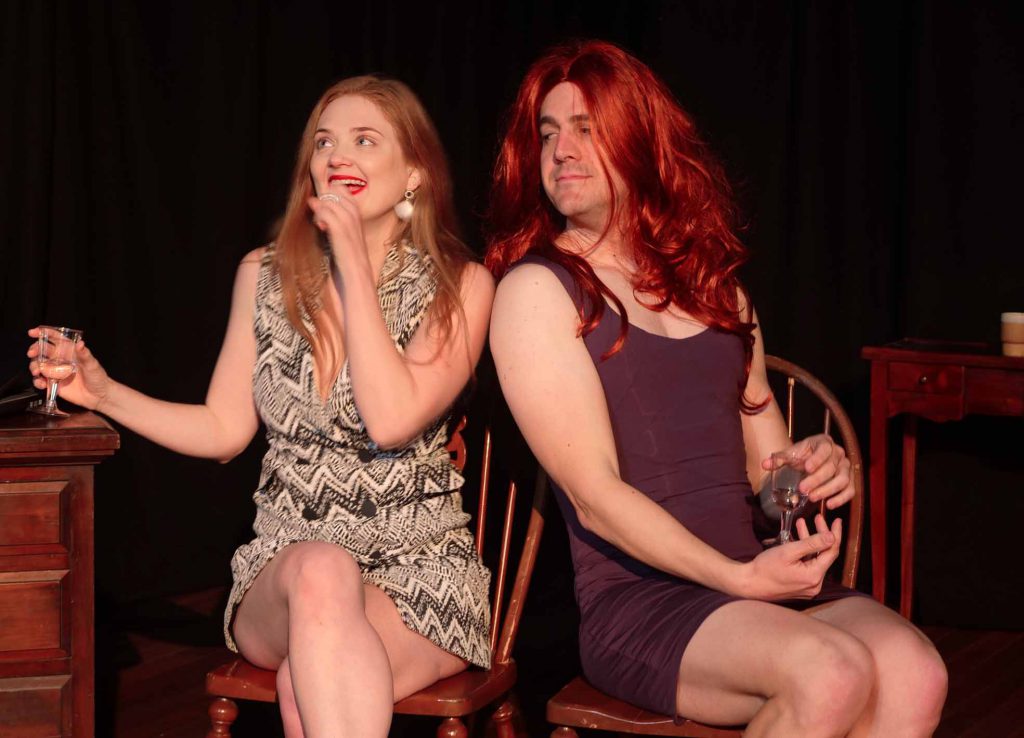 That element notwithstanding, I really wanted to like the character of Jessica. But Madani delivered all her lines with a similar expression, as though she was going to break character and start smiling. Even her ending monologue, which should have been a real moment for the character, sounded like Madani had been waiting all show to deliver memorised lines rather than it being a genuine reaction to the events of the scene (and the play as a whole).
On a positive note, Kelsey Hunter had some real zingers as the model-turned-paid-girlfriend Clara. A very funny character and audience favourite for sure, although a few lines and reactions felt forced initially.
Also, my favourite character by far was the drunken, sleazy sports journalist Max, played by Alexander Morgan. The most believable of characters, he waltzes on stage with all the slime you'd expect from a tabloid journalist. Oozing confidence and never without a beer in hand, he delivered consistently.
Overall though, it felt like it needed a few extra rehearsals to shift from just running through the motions of reciting rehearsed lines to being believable characters with chemistry, authentic banter and a story to tell.
The cheese platters at interval are great, though.