It's tragic, it's brutal, but underneath all, hopeful.
In a recent interview with Rosie Niven, playwright James Elazzi explains that he 'always asks the audience questions that are hard to dissect', and that in essence is what Omar and Dawn does. It pulls the punches, and doesn't check for bruising.
Green Door Theatre Company, Apocalypse Theatre and bAKEHOUSE Theatre's collaborative effort is nothing short of intense. The one-act play follows the story of an 80-year-old Dawn (Maggie Blinco), a foster parent to 17-year-old first-generation Lebanese Muslim Australian Omar (Antony Makhlouf). His best friend Ahmed (Mansoor Noor) lives under a bridge after being kicked out of home for his sexuality, working in the sex industry for money. Omar desperately tries to make a better life for himself working for Dawn's brother (Lex Marinos) as a mechanic, all whilst trying to coax Ahmed into accepting that he is worth more than his family's rejection.
Elazzi's script paints an unforgiving and heartbreaking picture of a life we have never seen before. And it's not as simple as an easy life or a hard life. It is complex, indicating that we're all a part of a patchwork country in which privileges and disadvantages are handed out in varying amounts and different ways. His script makes one wonder: does it take losing everything to recognise loss?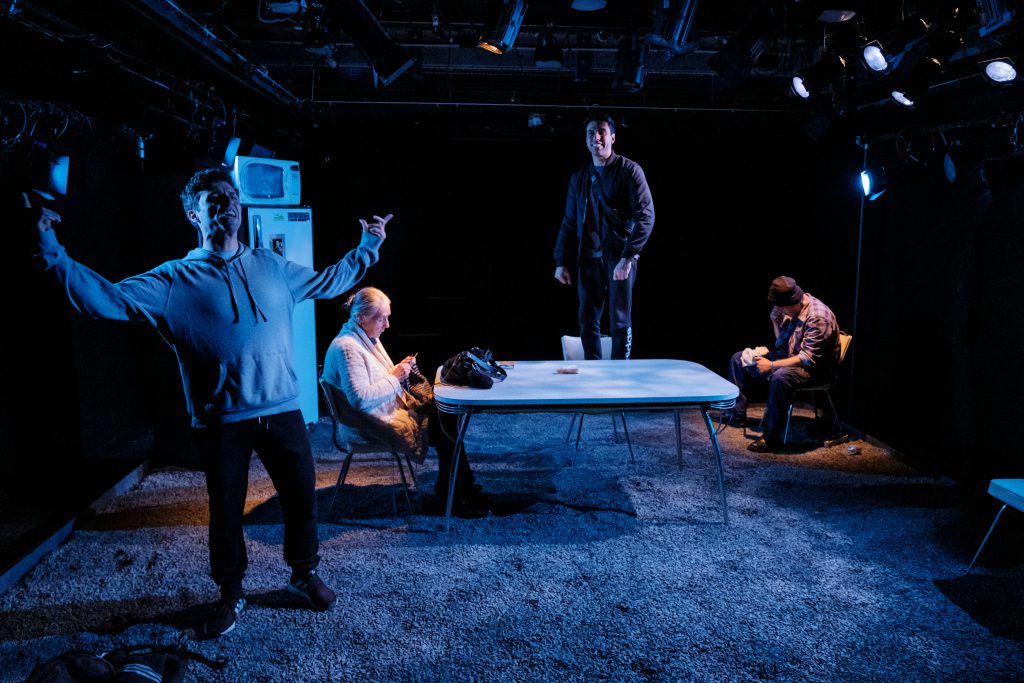 Aleisa Jelbart's design very much reflects the complex worlds of Ahmed, Omar, Darren and Dawn to pose this question both physically and metaphorically. Giving us the extremes of both the rough and crunching gravel – symbolic of the beat-down nature of the world the characters inhabit – as well as the comfort of a fridge full of food and the sound of a microwave, images and sounds that tantalise the characters with hopes of security and even a hot meal, we as an audience see the loss suffered by these characters.
Such design is bolstered by Benjamin Brockman's lighting, allowing for the four actors to share the tight vicinity of the Kings Cross Theatre as one yet inhabit different worlds all at once, and Ben Pierpoint's sound design successfully reinforces the emotional journey these four lives undertake (both together and alone). Paired with Jelbart's design, these creative influences allow for the tiny KXT stage to be a kitchen, a bridge, and a garage without changing a single thing, immersing the audience in the foursome's woeful world.
But don't be fooled for a minute, because the characters themselves are more complex than that.
Blinco, making her theatrical comeback as Dawn, is incredible. Her confident tenacity is able to bring an undeniable warmth to wrath, and a strength to sweetness, to the events of the play. Makhlouf is able to accomplish something similar, bringing rumbles of laughter to the crowd in his unapologetically abrasive and determined characterisation of Omar. Those dramatic choices make the odd moments of kindness he shares with other characters even sweeter, even if he tries to shrug them off as anything but.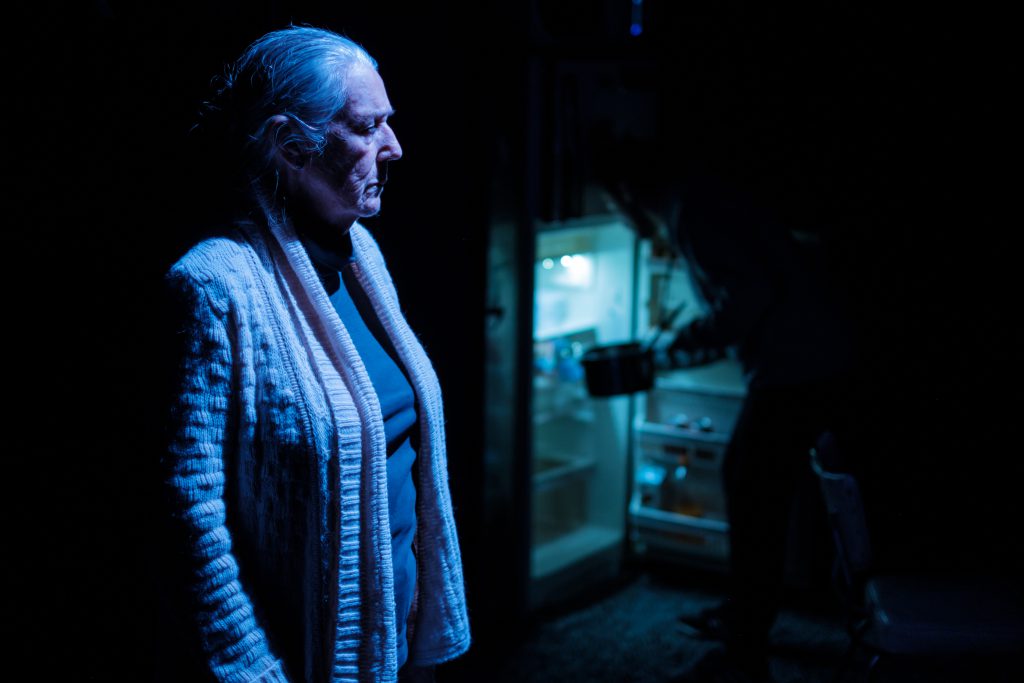 Marinos is a flexible and adept actor amongst the cast, proving his dextrous acting even within his role as Dawn's brother (which has a confusing arc that seems to jump out of nowhere). Rounding out the quartet, Noor is heartbreaking, and at times striking, as Ahmed. He plots the devastating stubbornness of Ahmed's hurt so well that the end of the play gives the audience an extremely sharp emotional relief (albeit one that won't be revealed in this review for the purposes of spoilers).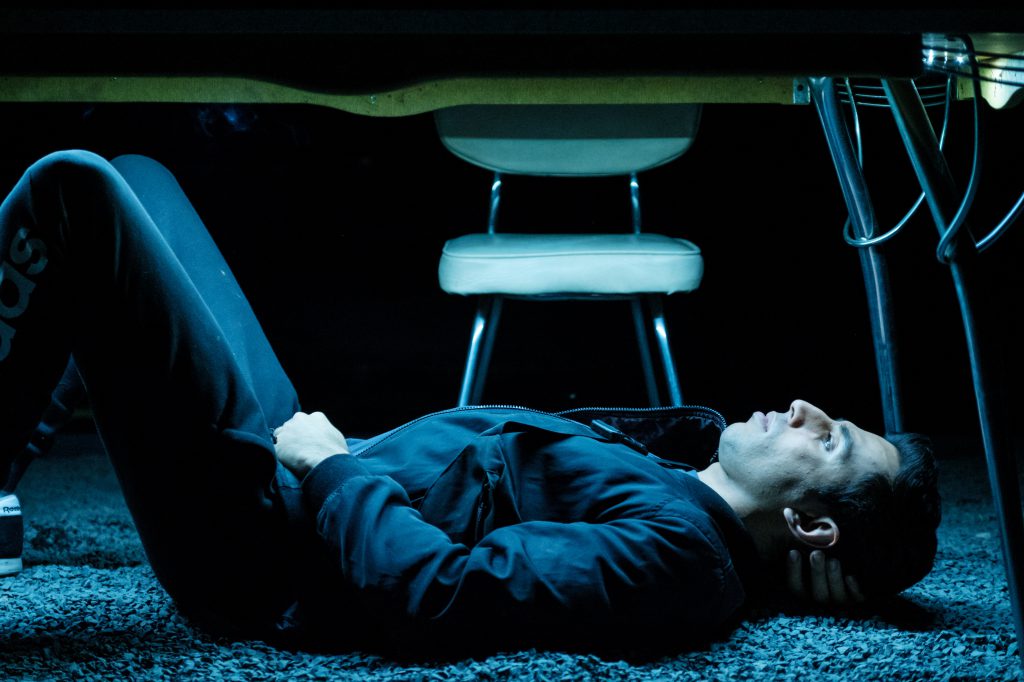 Director Dino Dimitriadis makes some compelling choices in this production, presenting a show that packs a punch when all these aforementioned factors work in harmony. Unfortunately, missing just one of these results in some less-than-honest evolutions throughout the play. The audience must pay close attention to every action of every moment of the ensuing 80 minutes, for should one fail to see something bubbling under the surface of the performance or not digest the action quickly enough, it is unclear why suddenly someone is shouting, leaving their wife, sabotaging a moment, or bringing up a retirement home.
Overlooking that, however, Omar and Dawn sets a standard for other new Australian works that try and approach issues that are often shied away from. Theatre can be an important place for us to learn, and for us to become empathetic to someone else's life all from the comfort of an audience seat, so we must reflect and be empathetic without that comfort when we're out in the real world.
Which is what this play so beautifully allows us to do.