The Vaudeville Switch.
Paul Keating, at the height of his ambition, was televised as saying "If necessary I'll throw the switch to vaudeville." He was the wittiest politician in a generation, a devastating speaker in the House of Representatives and an impeccably dressed, poised, backroom bovver boy. What more could he offer?
Jonathan Biggins' answer, twenty four years after the Keating Prime Ministership, is an hilarious, provocative, entertaining slide show of a history lesson, punctuated by moments of genuine emotion which reveal some of the man behind the mask. He doesn't delve into Keating's private life. He doesn't need to, but this is an extra-ordinary creation that shouldn't be missed, twice.
We are welcomed into Keating's study; French clocks and classical portraits, a record player, classical columns and tiny photos of his family. He attempts some audience interaction at his producer's insistence ("She couldn't produce phlegm"). It fails, as Keating predicted it would but in some extra-ordinary theatrical sleight of hand, it engages us instantly. We could be his target, any millisecond.
The slide evening (complete with an upside down photo) is an immodest history of "The World's Greatest Treasurer". Keating does not lose the 1996 election in Biggins' script; he comes a knowing second. The satire illuminates the character: it is accurate enough for Keating to be conscious of his "showbiz" persona.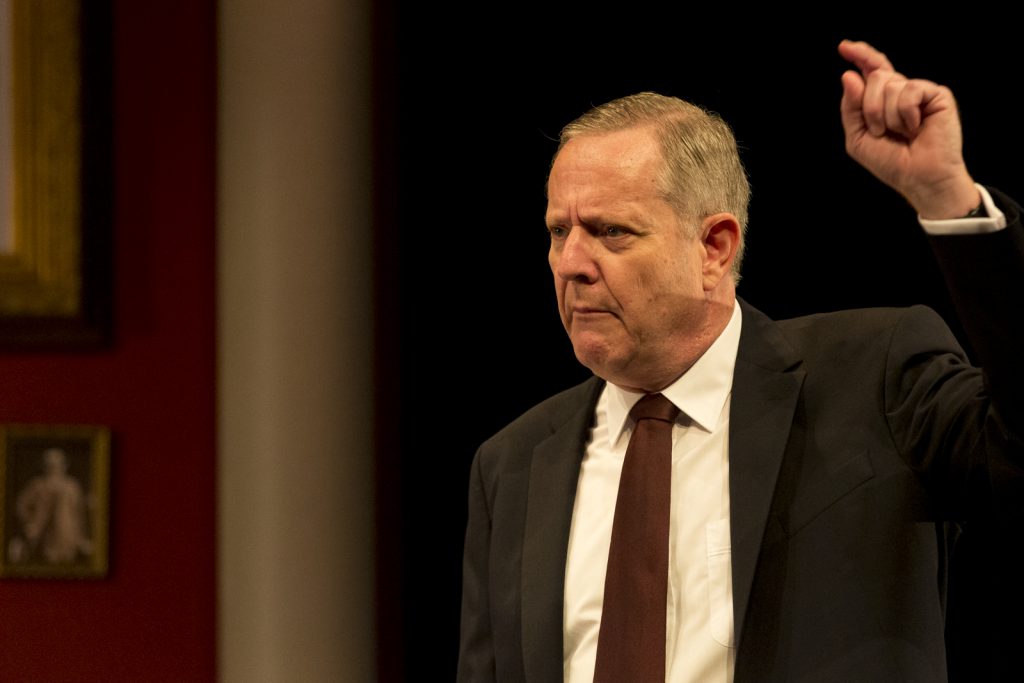 Biggins has developed his Keating character over several of the legendary Wharf reviews and it is our privilege to see a craftsman at the height of his powers. The gestures, speech patterns and phrasing ("Get onto this…") are uncanny enough to invoke belief. This reviewer had one or two questions he wanted to put to the Blaxland battler in the foyer afterwards – a true believer if only for a moment.
There are questions but they are so cleverly staged I will not offer a spoiler.
No politician past or present escapes Keating's razor, from Scott Morrison to Gough Whitlam. "What can you say about the great man that hasn't been said already? Well…" Biggin's script is so apt that we don't stop to wonder if Keating really said the best leader from the Shire was a hobbit.
Keating left school at 14 and learnt his politics from the former New South Wales Premier Jack Lang in two hourly sessions each week for seven years. Like many autodidacts, his appetite for knowledge was voracious, if not always discriminatory.
You need no knowledge of history or politics to appreciate Keating's comments on what makes a leader. The need for chutzpah, personal principles and an ability to provide a light for the way forward are clearly relevant today. Self-belief is vital even when ridiculed as egotism. Keating was, by his own admission, the first defeated Prime Minister to give his successor a tour of the Lodge. Howard moved into Kirribilli House.
The barbs and aphorisms of political passion are softened by Keating's warmth and affections. His pain at the split with Hawke is manifest. His deep distress at the death of his father and the devastation his career wrought on his family life are marked by moments that ring true to the man and his impersonator.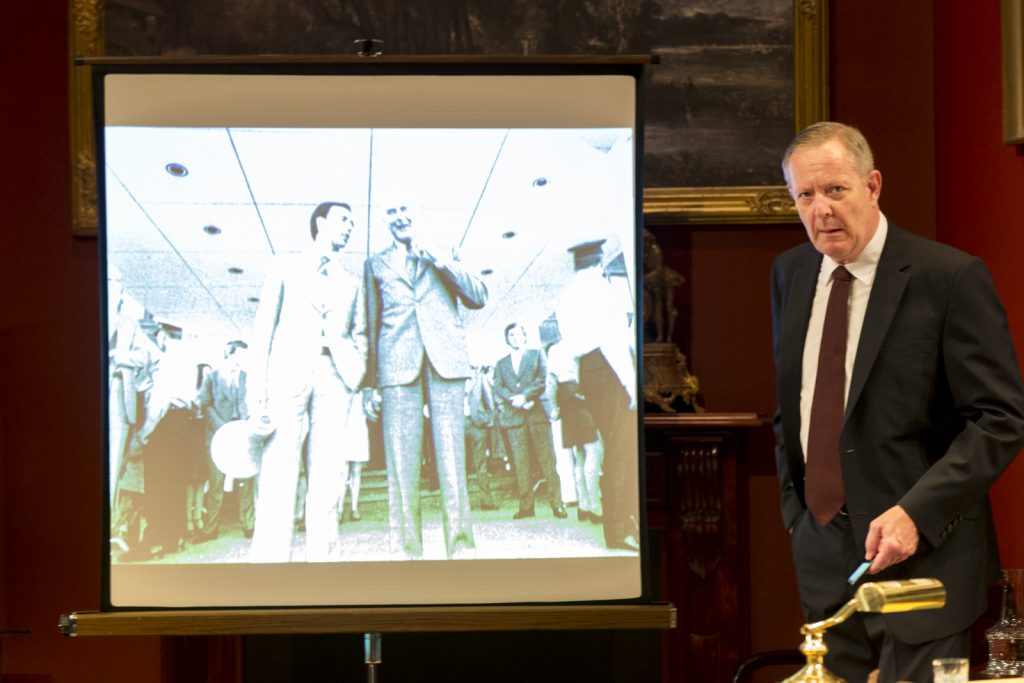 It's a high wire act. Keating gives a devastating version of Whitlam's "Well may we say God save the Queen" speech. There is a thunderous applause topped by "I don't do impressions."
An extract from the Redfern Park speech, performed in a subtle spotlight, is worth the price of admission alone. Slow, simple and heartfelt, it gets such resounding applause that we wonder why it was another 13 years until Rudd offered his "Sorry". It is impossible to know if the applause is for Biggins, Don Watson's words, Keating's courage in delivering them or a combination of factors. Finally, of course, it is irrelevant.
Keating has a signed Tom Jones album "To Tom, from Paul". That's probably a Biggins' joke but I wonder if Jones wishes he had one. Keating, the parliamentary performer, is electrifying in Biggins' hands.
Comparisons with the current political scene are inevitable and probably more Biggins than Keating. But when Keating calls the roll of Ministers in the Hawke Keating Government the effect is shocking, for those who remember. The Outer Ministry alone is star-studded with people who wanted to make a difference and they are all in one slide, the right way up this time.
Is it a show for the True Believers? Not at all. Biggins makes the flaws so transparent as to be humourous in themselves. It is Keating's finest fictional autobiography written by a fellow actor. It is a triumph of writing and acting that should be kept in the Great National Repertoire, to keep us all honest and laughing.

See it twice.