Steinbeck once wrote, "The theatre is the only institution in the world which has been dying for four thousand years and has never succumbed."
Whilst a stunning concept in itself, this quote applies particularly well to playwright Frank Galati's rendition of Steinbeck's The Grapes of Wrath, which follows the decline of the Joad family as they leave the 'Dust Bowl' of 1930's America for the sunshine and fruit crops of California. In Louise Fischer's latest directorial venture for New Theatre, the Joad family's 'dying' is equal parts painful and powerful – and yet they too do not succumb, with a final image of bittersweet hope leaving the audience humbled.
The Grapes of Wrath begins with the return of Tom Joad (Matthew Abotomey) to his Oklahoma home and family after being released on parole. After reminiscing with the one-time preacher Jim Casy (William Baltyn) he finds his Pa (Andy Simpson) and Ma (Rowena McNicol) packing up the rest of the family to head west to find work. After troubles on the road Act One ends with the glory of finally seeing the rolling greens of California, but as the audience suspects, in Act Two not all is as advertised on flyers sent to the east. Work is hard to find, the pay is abysmal, and more of the Joad family are lost along the way.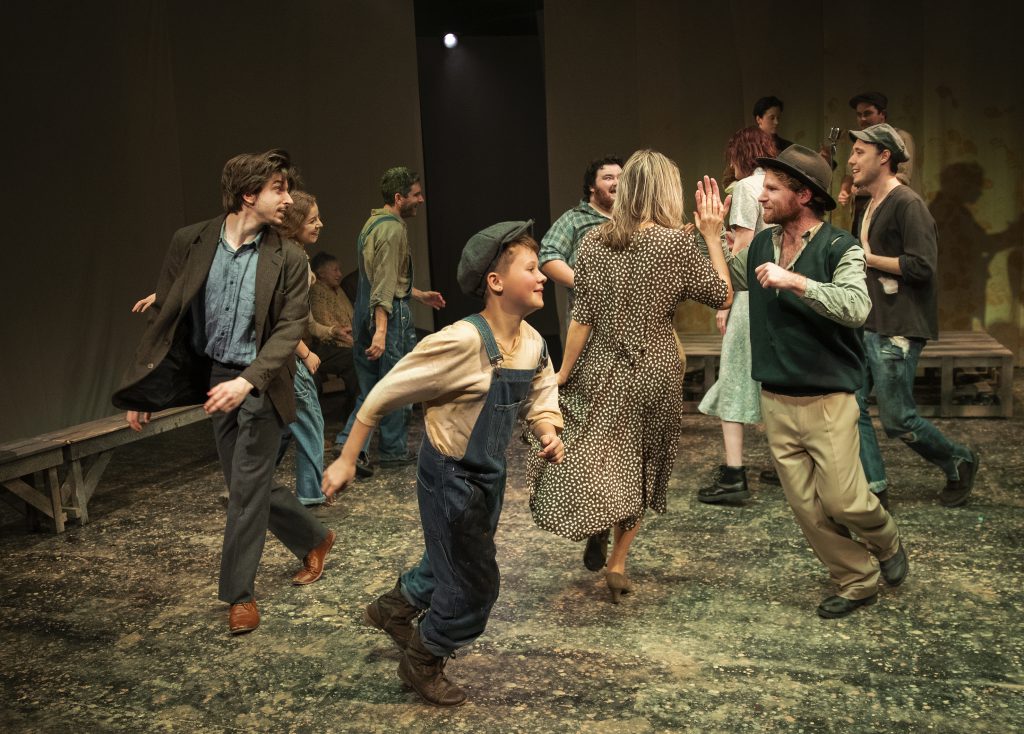 With a cast of twenty it's hard to single out every performance – the group's work as an ensemble is well connected, for the most part – but there are some standouts amongst them.
Abotomey and Baltyn as Tom and Casy respectively share an honest chemistry on stage. Casy's sermons on life and sin could be a yawn for an audience, but in Baltyn's hands they are deft and eagerly anticipated. James Bean as Uncle John has a great authenticity, as does Andy Simpson as Pa Joad – his joyful reunion with Tom is one you can't help but smile at. Ma Joad is played with a wilful tenderness by Rowena McNicol, if sometimes a little rushed, and her final scene with Tom (a standout moment for Abotomey) is heartbreaking. Madeline MacRae as Rose of Sharon Joad is sweet and sincere, and achingly strong in Rose's more sorrowful moments. Members of the Ensemble, when stepping into small character roles, are striking to watch: Caroline Levien as Elizabeth Sandry, Ted Crosby as Man Going Back, and particularly Angus Evans, a truly dexterous performer whose Proprietor is as grimy as his Floyd Knowles is proud.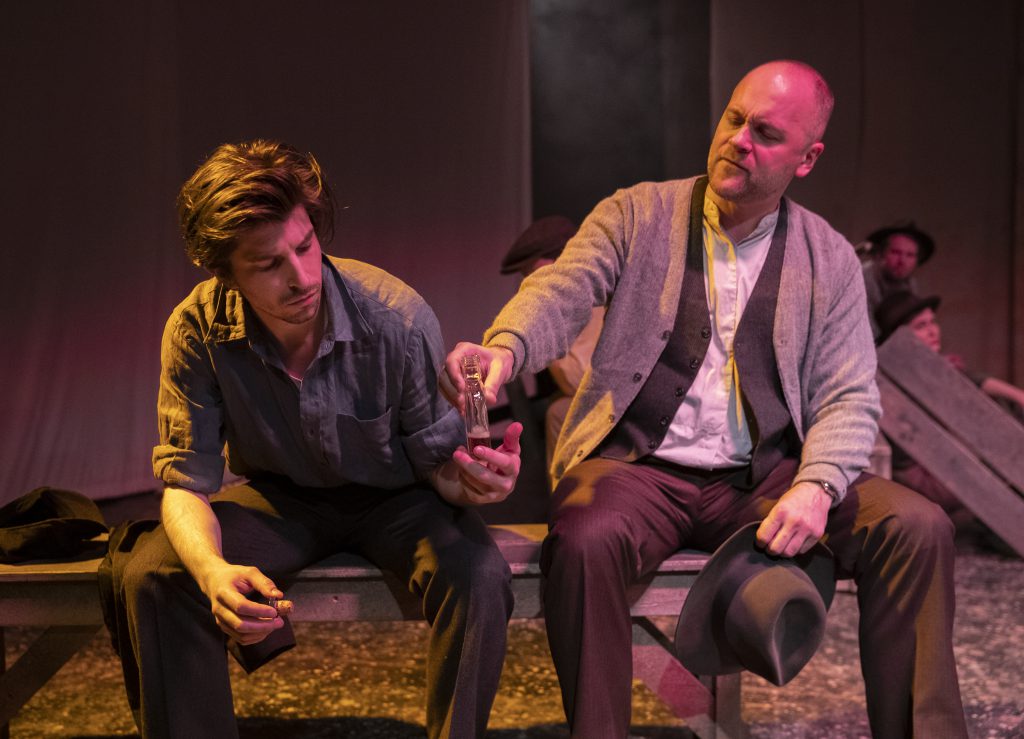 The actors are aided by a skillful lighting design from Michael Schell. Burning golds portray the decay of the Dust Bowl, midnight purples cocoon conversations, and lighting changes easily signify the passage of time. Tom Bannerman's set design is sophisticated but still simple, with actors moving benches and pallets to form shanty towns and traveling wagons. A backdrop of dust-splattered, layered curtains is used to great effect, creating a striking image of triangular doorways which the cast sing between. On that note, there are surprisingly good vocalists and musicians amongst the cast, well employed by director Fischer at various stages of the show.
However, there are some clunky transitions, and a few which do not serve the story but rather pull the audience out (like the car salesmen quintuplet). The main letdown, in this writer's perspective, is simply time; not enough of it is given to key moments, tugging the audience through tragedy instead of letting them sit in the discomfort of watching the family's world fall apart. This is most felt in the play's final scene, where a childless Rose of Sharon consents to giving her breastmilk to a dying father. Saved by a moving performance from MacRae, one will know how close this moment was to being almost lost in the rush of the concise run time.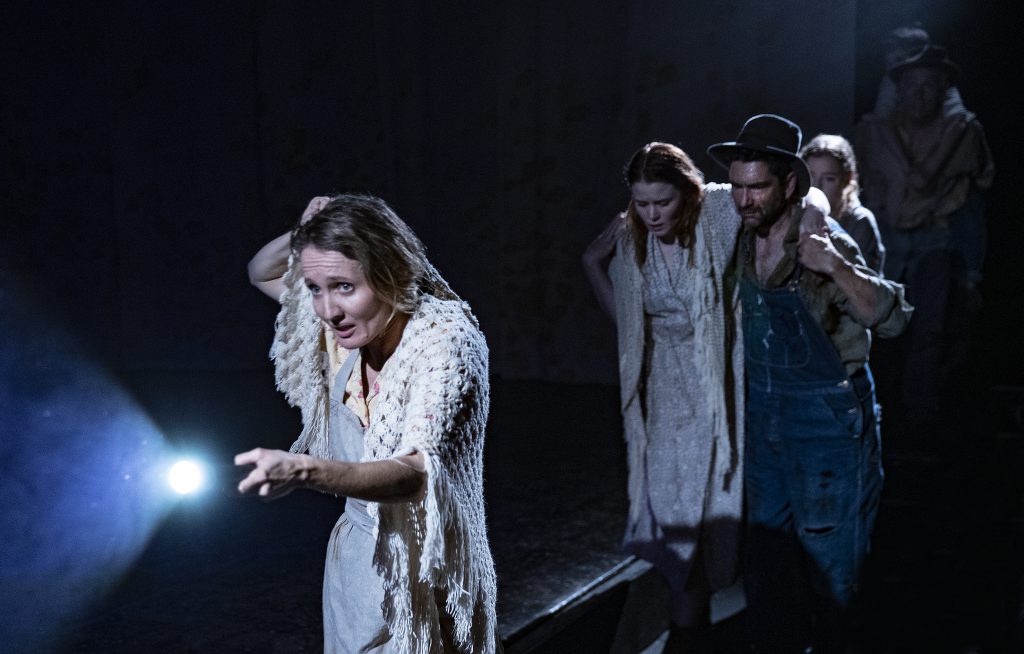 In any case, Steinbeck is a Pulitzer Prize winner and Nobel Laureate; his writing is inspired, impactful, and it can be hard to do it justice. Despite some setbacks, this production manages to do just that; another great classic text presented with skill and admirable performances on the New Theatre stage.