Take caution in more ways than one.
For a wild ride of exciting contemporary theatre get to Tooth & Sinew's production of U.B.U: A Cautionary Tale. Based on the original UBU Roi, the script has been completely rewritten by Richard Hillier with input from a cast who throw themselves with great passion into their roles; resulting in a play that clearly belongs to all of them.
The original story is partly a parody of Macbeth, with some elements of Hamlet and King Lear thrown in. The writing, whilst childish and often obscene, was written to express a deeper meaning of the evils and greed of the society of the time. While keeping the clownish, larger than life characters – yes, fart and poo jokes included – Hilliar has updated it to the concerns, or lack of concern, of this generation with a major environmental focus on global warming.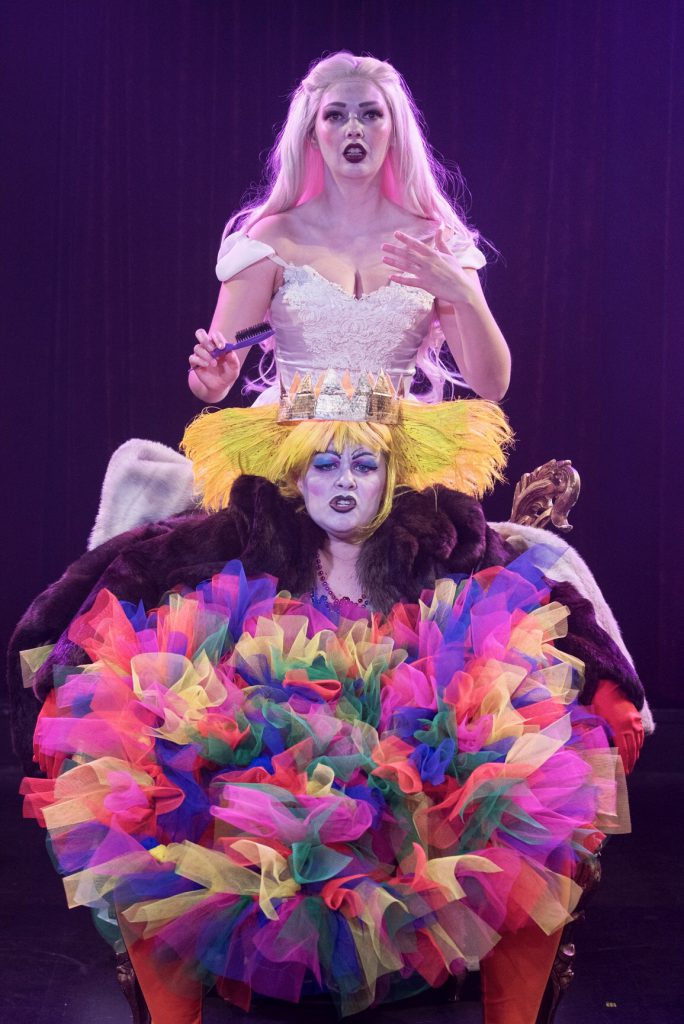 The plot twists and turns as we witness the impending destruction of the planet from "the heatening" brought on by exploitation, greed and denial. As resources vanish including food and water is a nuclear "winter" the solution to global warming or is it too late?
The costumes created by Tanya Woodland and makeup, wigs and set designed by Ash Bell are as outlandish, colourful and bizarre as the characters and their names.
Emily Elise, as the tough and smart Ma Ubu, and Sam Glissan as the gross Pa Ubu set the scene with some crass dinner antics. Coming as their guests are the Prime Minister of Pooland, Fuller Bjullschitt (played in great style by Tristan Black); he is accompanied by Rachael Colquhoun-Fairweather (as the obnoxious Medea Information) and Shane Russon (as the head of science and global warming studies, Dr Murry Faseema).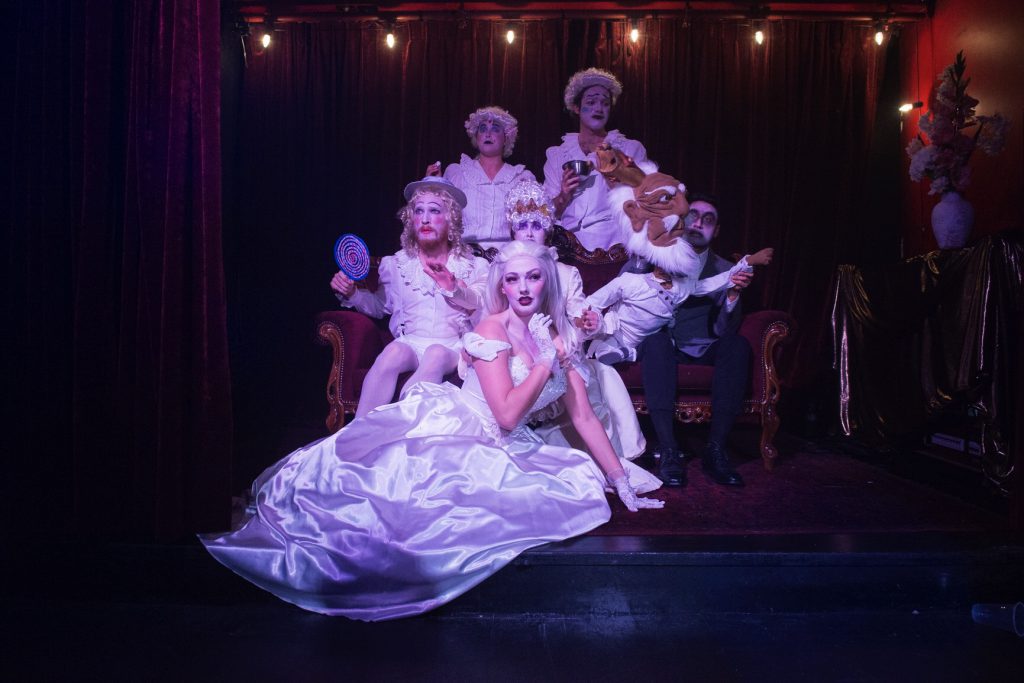 They plan to murder the royal family and take over Pooland for their own nasty designs. Alongside them is Queen Lizardbreath (played by Lib Campbell) and her husband King Dumc'nt (played by Idam Sondhi, who skilfully uses a wonderful puppet made by Ebony Anne Zderic).
Rounding out the cast are the four royal children. Firstly, the short-lived twins Bobert (Shane Russon) and Billiam (Rachael Colquhoun-Fairweather), who seem to be there more for additional comedy than to progress the play. Following them is The Fair and Lovely Princess Munt of the Batted Lash and Delicate Gesture played with much grace by Nicole Wineberg, who we are cleverly tricked into thinking is meek and mild but who actually has a shock value effect on the play's ending.
Finally, the foppish Prince Bitchard (Gideon Payten-Griffiths) brings an excellent contrast to the other aggressive characters. He escapes to seek his own life and meets two new-age "oracles" Wicker (Idanm Sondhi) and Corduory (Lib Campbell), providing yet another poke at elements of our society.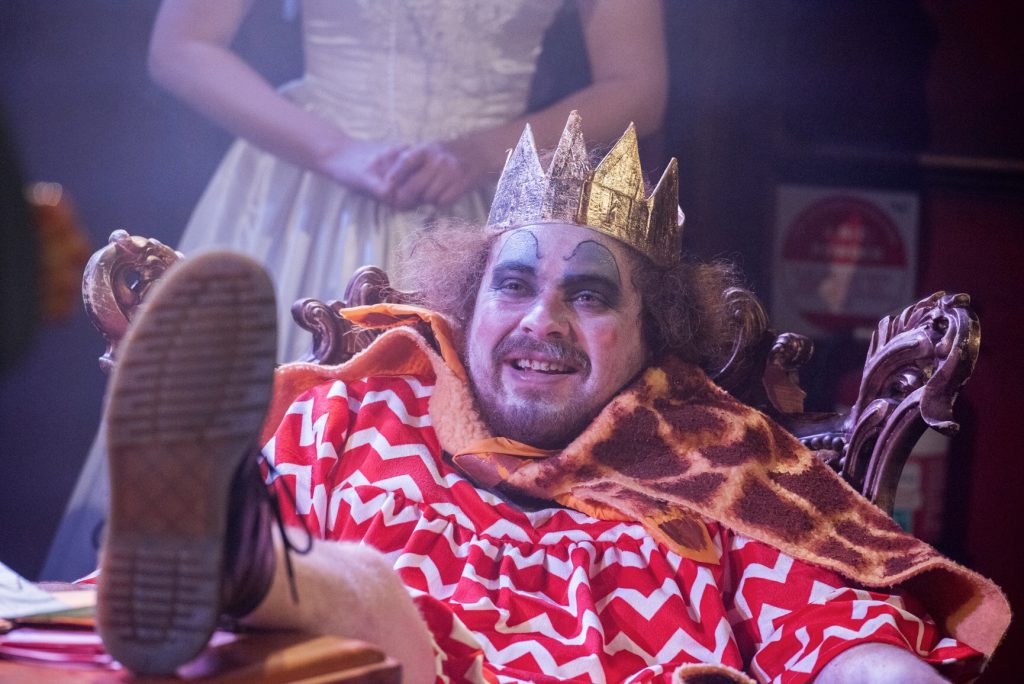 The characters remain nasty and selfish, successfully representing to the audience the traits of too many of us who think only in terms of our own personal world. The exception is Princess Munt who is trapped and accepting – but again highlighting how others live, some caught, some inactive, in their own space, until her moment of decisiveness at the end.
Sound design by Tegan Nicholls and lighting design by Ryan McDonald add to the atmosphere, expertly directed by Richard Hilliar with assistant director Lana Morga. Thanks to them, the audience knows there is a message below this bawdy, silly, comical production and its delivery is loud and clear.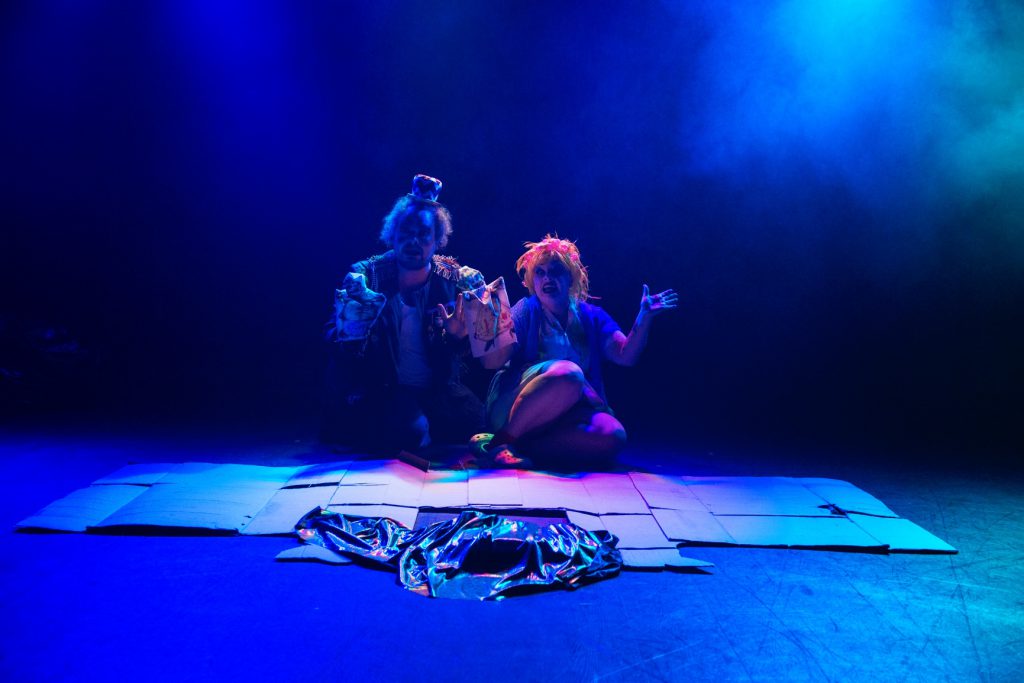 Let yourself go in this highly entertaining production and look into our planet's possible very grim future.