Home Chat probably isn't the first thing that comes to mind when Noël Coward is mentioned.
It's bound to be the case that one of the 20th century's most prolific playwrights, with an oeuvre of over fifty works, has some disappointments that get forgotten amidst a throng of countless masterpieces. Coward himself admitted three decades after the show's debut that it was only "a little better than bad". But perhaps Home Chat is a sorely overlooked show, a treasure awaiting its grand revival in theatre. That's certainly what I imagine director Barry Nielsen (Noemie Jounot assisting) and the Genesian Theatre had hoped for as they made the choice to deliver the show's Australian premiere.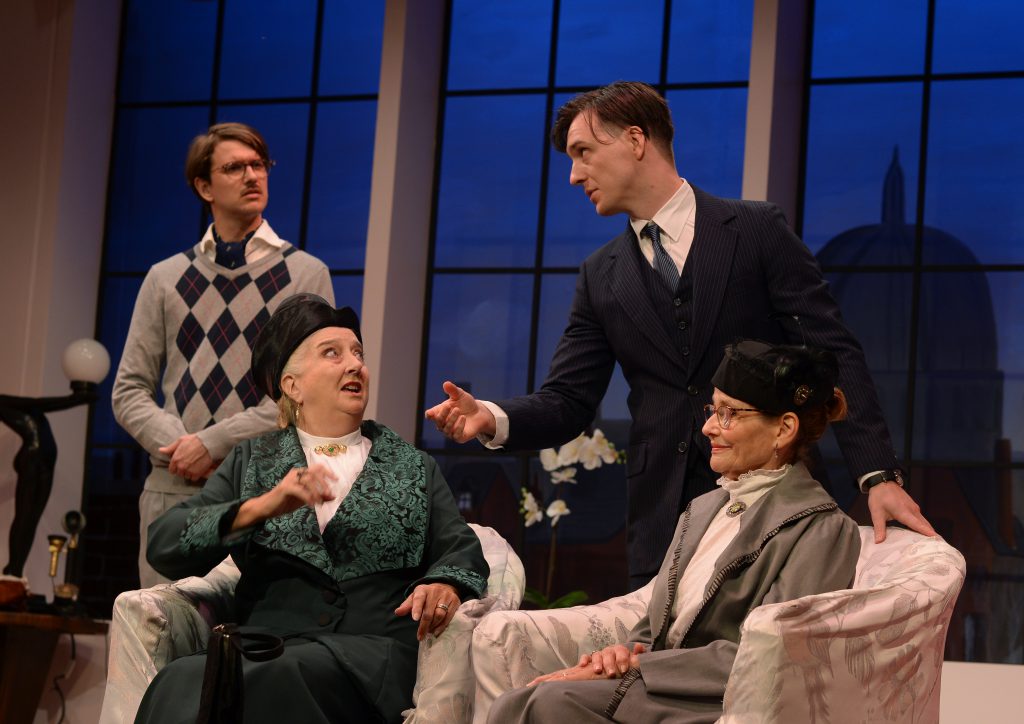 When Home Chat first opened almost a century ago in October 1927 it was met with reproach from audiences and critics alike. It was so poorly received that the crowd famously shouted, "we expected a better play" to which Coward responded in-kind with "and I expected better manners". Some of the hatred for the show likely stemmed from the abysmal performance of star Nina Boucicault, who frequently forgot her lines – a regrettable casting choice for Coward. But after seeing the show for the first time at the Genesian, I feel confident in saying that much of the original hatred for the show was likely no fault of Coward or the script, but rather a result of it being too ahead of its time.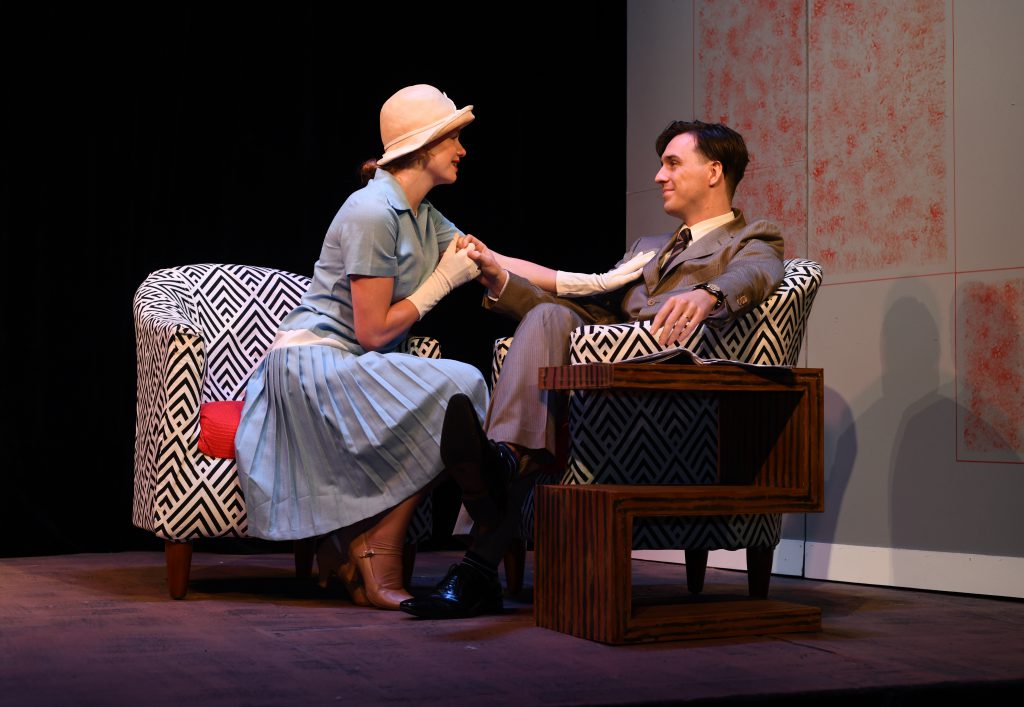 Genesian's Home Chat serves us with a reminder of Coward's extensive creative talents. As we wait for the curtains to open, Coward's voice can be heard singing A Bar on the Piccolo Marina, gently growing in volume as the audience's chatter begins to fade. Needless to say, Sound Designer Michael Schell was fortunate to have had such an abundance of great content to work with.
It's also clear that much homage is paid to Coward's profoundly creative music – helped, too, by Robert Green's (playing Pallet/Turner) fantastically animated singing during the intervals of the two-act, four-scene play.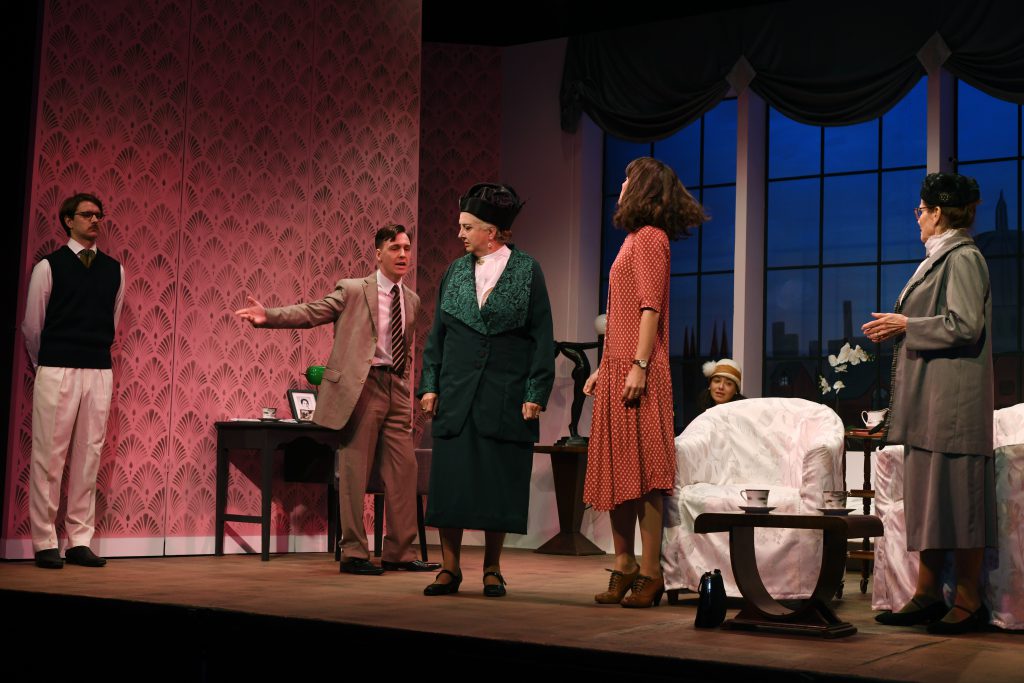 The play begins in Paul and Janet Ebony's (played by Kendall Drury and Abbie Love respectively) house – the excellent art-deco set design by Tom Fahy and convincing period costume design by Susan Carveth eliciting an excellent first impression of the show. Paul, Mavis Wittersham (Ruba El-Kaddoumi), Mrs Chillham (Jenny Jacobs), Mrs Ebony (Lois Marsh), and Lavinia Hardy (Scarlet Hunter) receive news that Janet Ebony had been sharing a sleeping carriage with her close friend, Peter Chelsworth (Cameron Hutt), when their train had crashed whilst holidaying in France. Humorously, very little regard is had for the trauma of Janet Ebony and Peter Chelsworth: instead, suspicion immediately abounds of their supposed involvement 'immorality', despite their insistence to the contrary. Janet and Peter then devise a plan to exact revenge on those that accused them of their supposed infidelity.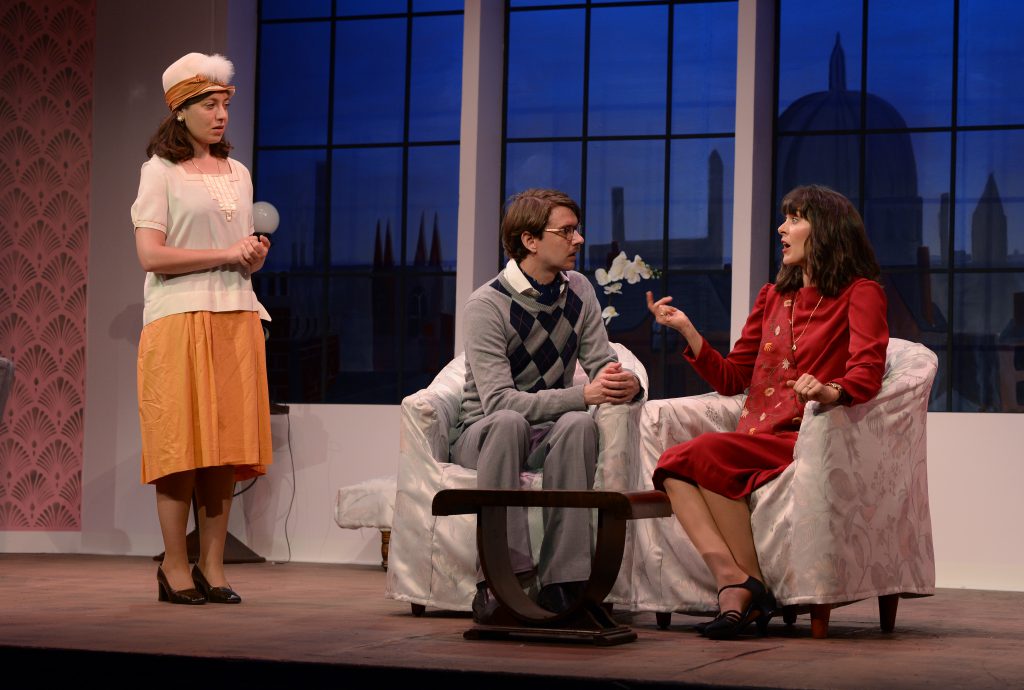 Overall, the script is certainly entertaining and exhibits Coward's usual flair for wit and flamboyance. The themes of female empowerment and its casual depiction of marriage were likely too progressive and confronting for theatregoers of the 1920s, but to audiences of the 2020s, the way the show tackles some of these themes is likely to come across as slightly dated. Home Chat is a show whose biggest failure has simply been misfortunate timing. Too progressive for its original debut, the script now feels slightly dated following its rediscovery. In spite of this, Barry Nielsen should be commended for finding what is undeniably a massively underappreciated example of Coward's work and bringing it to Australian audiences for the first time.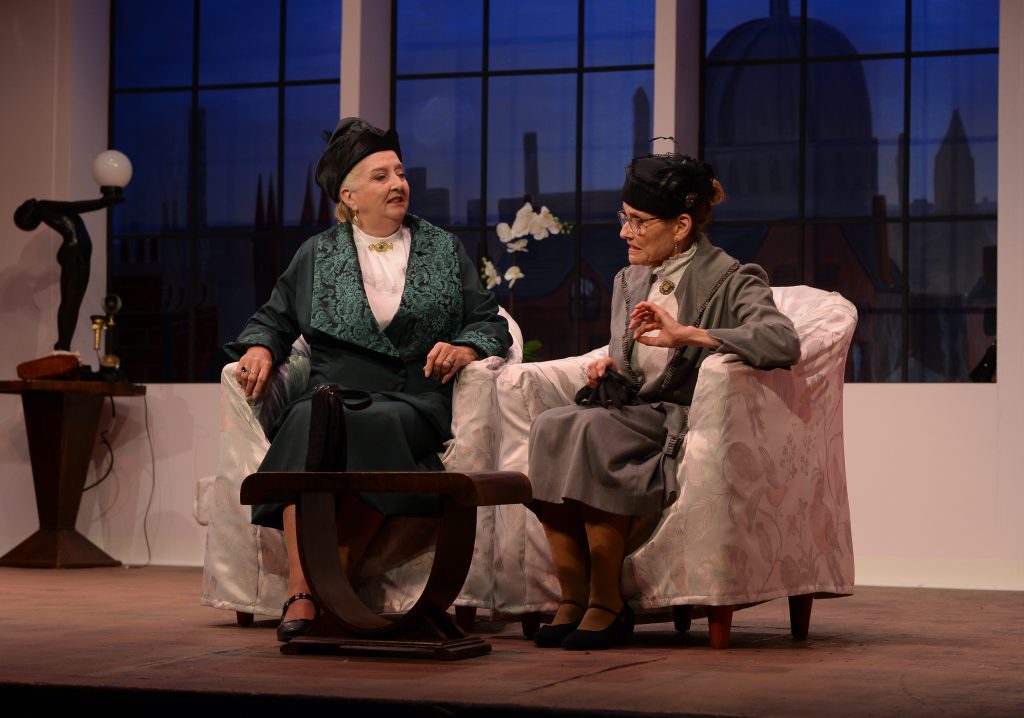 The cast of Home Chat were all outstanding, creating a highly memorable performance. The actors were all highly committed to their role, greatly contributing to how watchable the show was. The 1920s, upper-class English accents were also universally refined and consistent. I imagine that Coward himself would have eternally grateful to be able to have such a strong cast for the debut of Home Chat in 1927, as the committed and highly compelling performances complemented Coward's characterisation and the wit and comedy of his script. Perhaps if Coward had been armed with Genesian's cast and crew, Home Chat would not have been a show lost to time. Of particular note was Abbie Love's absolutely exceptional performance of Janet Ebony, wonderfully conveying Janet's bold and endearing character.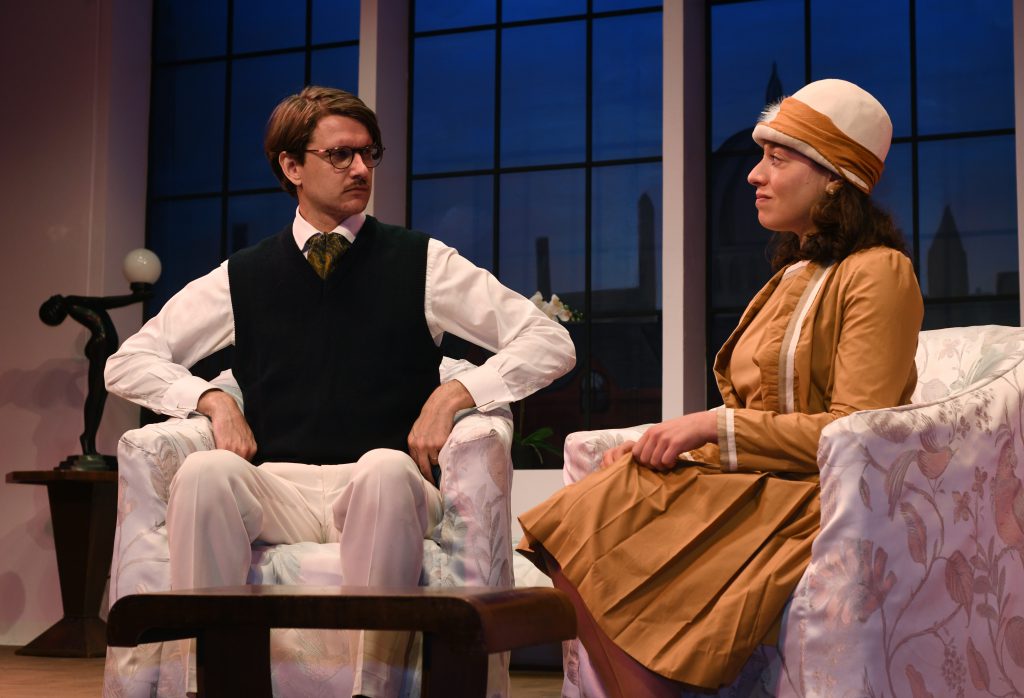 All in all, Home Chat is an excellent show. Whilst the script clearly shows its age and can at times feel a touch out-of-date, Genesian has given us the great opportunity to see one of Coward's least-known shows for the very first time. Furthermore, the production and performances are exceptionally strong and demonstrate a high degree of engagement with the script. I'd strongly encourage anyone reading to consider booking a seat before the season ends on 12 December.