Camp, glittery fun with a whole lot of heart.
Willoughby Theatre Company's production of the fabulous, funny Priscilla, Queen of the Desert is finally back on the road after a pesky virus put the show on hold last year. The cast and crew have donned their glitter, feathers and high heels to bring to life this camp celebration of drag and the LGBQI+ community.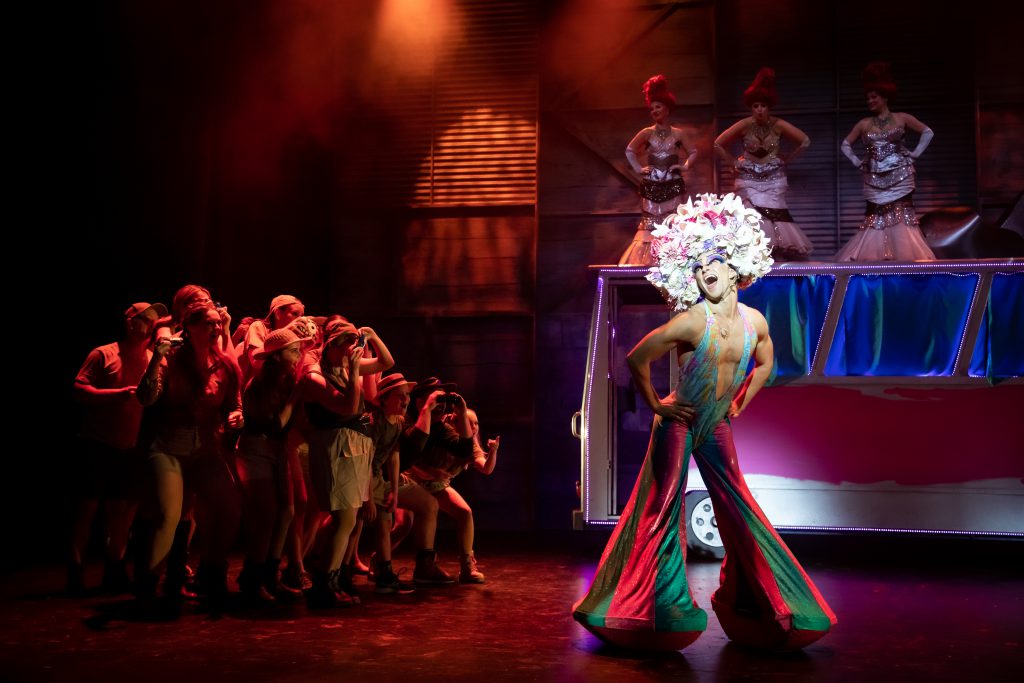 In case you've missed the iconic 1994 film (somehow), drag queens Tick and Felicia, along with transwoman Bernadette, leave behind the seedy drag clubs of Sydney and embark on an epic adventure through the Australian desert for a gig in Alice Springs. In a battered old bus they name Priscilla, they encounter secrets and surprises, new friends and new enemies, always in glittering, dazzling style.
With a soundtrack of jukebox classics, and a celebration of our beautiful Australian landscape, it's hard not to smile and sing along.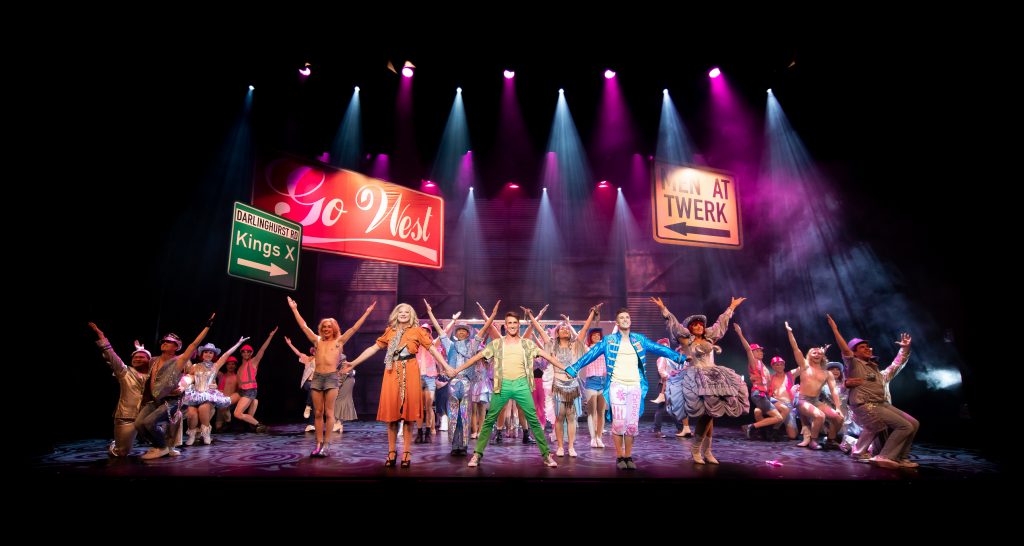 Director Adam Haynes has a lot on his plate to wrangle together a cast of 45, and an even bigger cast of 1000+ costumes – which often steal the show. Fans of the original costumes – designed by Tim Chappel and Lizzy Gardiner for both the film (which won the Oscar for Best Costume Design) and the 2006 musical will not be disappointed. Costume coordinator Joy Sweeney has accessed the Origin Theatrical Costumes, which were used on the international tour of the show, and they help bring plenty of colour and excitement to every scene. It's worth the ticket price just to see the final number in action.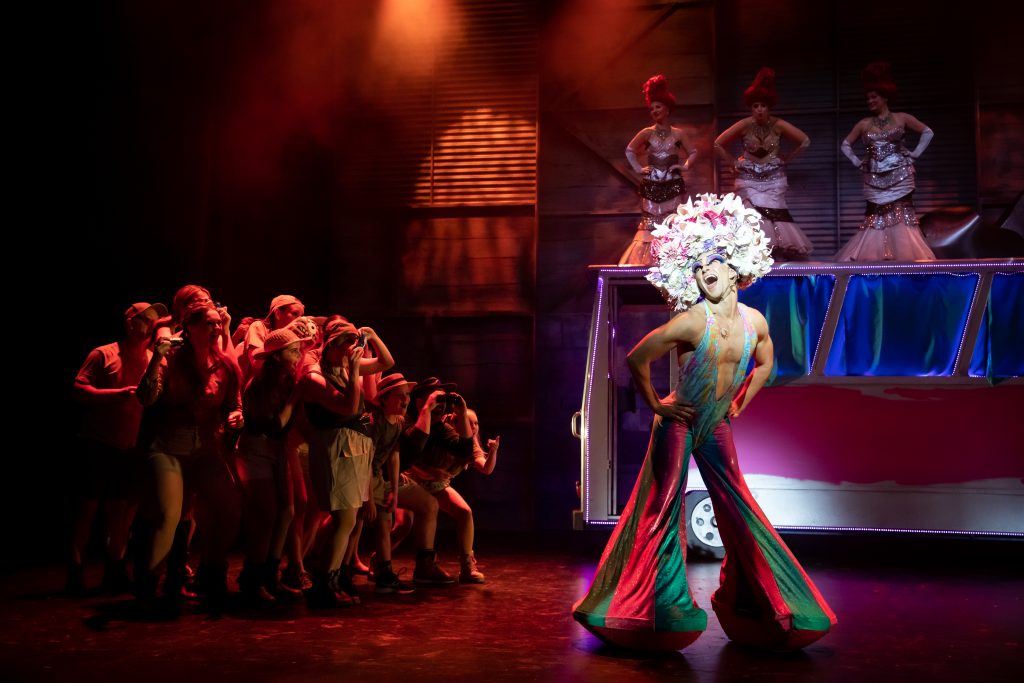 The performance did take a while to find its stride; loud mic interference was distracting throughout the show and mic cues were delayed, leaving some of the dialogue and singing misheard. The band felt disjointed from the stage, soloists were battling to be heard over ensemble singing at times – and for a show with so many famous one-liners, it can be easy to rely too heavily on a strong script to carry the show, and stumbled mishaps felt sharper.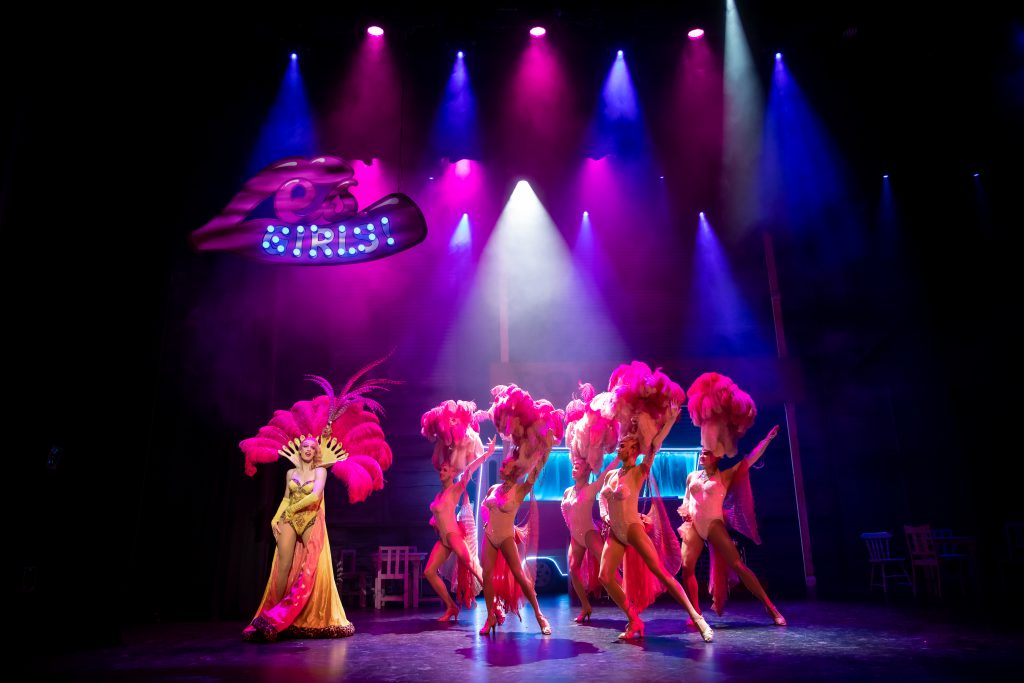 But by halfway through the first act, the cast and orchestra found their rhythm and what followed was an eclectic explosion of energy that radiated off the stage and smack bang into the audience. When a cast is having fun on stage, the audience naturally follows suit, and everyone in that room was having a ball. This is a show where ensemble brought the wow-factor to the stage, and choreographer Janina Hamerlock created movement on stage that was energising without being chaotic.
Leads Tick (Brent Dolaherty), Bernadatte (Glenn Morris), and Felicia (Tom Gustard) proved strong casting choices, giving their own flair to the iconic roles. It was the three Divas though – Nikole Music, Jessica Zamprogno and Karen Oliver – whose voices soared in beautiful harmonies to rapturous applause. Sarah Dolan's Shirley will have you cackling as she parades around in a – well, you'll see. Geoff Stone's mechanic Bob brought a gorgeous gentleness that offset the brash gawdy humour, and Susana Downes was perfection as Cynthia in that iconic scene.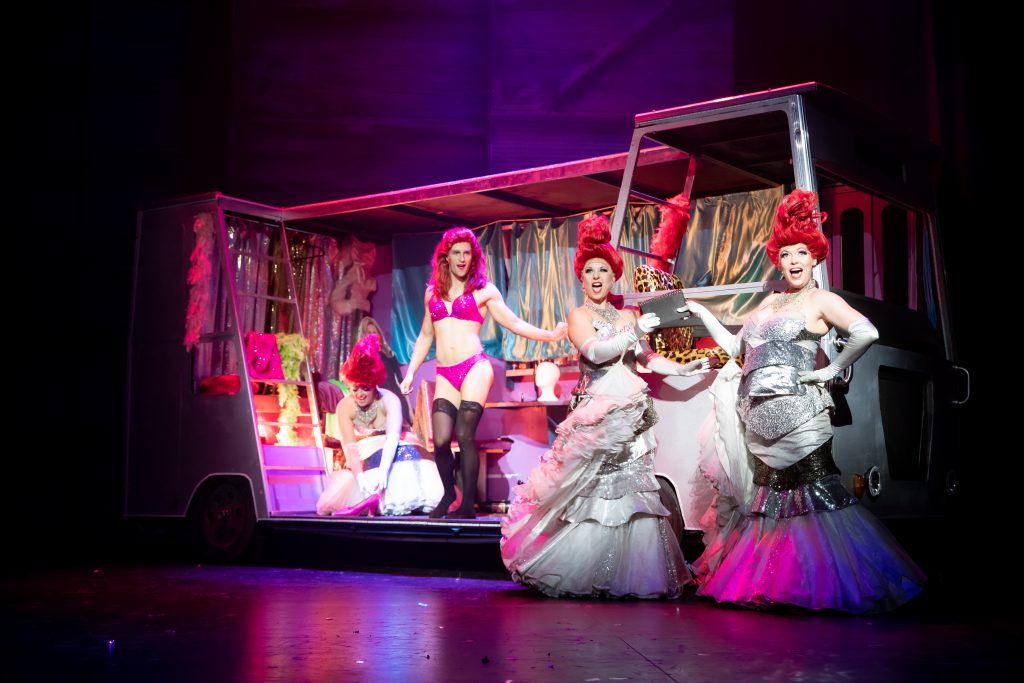 Haynes is presented with the challenge of taking themes and humour from the year 1994 and presenting them in 2021. Certain scenes, albeit iconic ones, taste a little different given the events of recent times. Asian sex-worker tropes, the banning of climbing Uluru… at what point do we let art exist as a time capsule of its era, and when do we give it a refresh to modernise it for the present day? This reviewer doesn't know the answer.
Despite a crunchy start, Willoughby's Priscilla, Queen of the Desert is a guaranteed feel-good night of theatre that will have you singing 'I should be so lucky, lucky, lucky, lucky' to see it.