Whilst fringe theatre has a well-deserved reputation for being low budget and things going seriously wrong, it's like rooting for the underdog – love it or hate it, you're still cheering the show on. Characteristically, things did go wrong in STREET, which played at the Chippen St Theatre, but I enjoyed it nonetheless.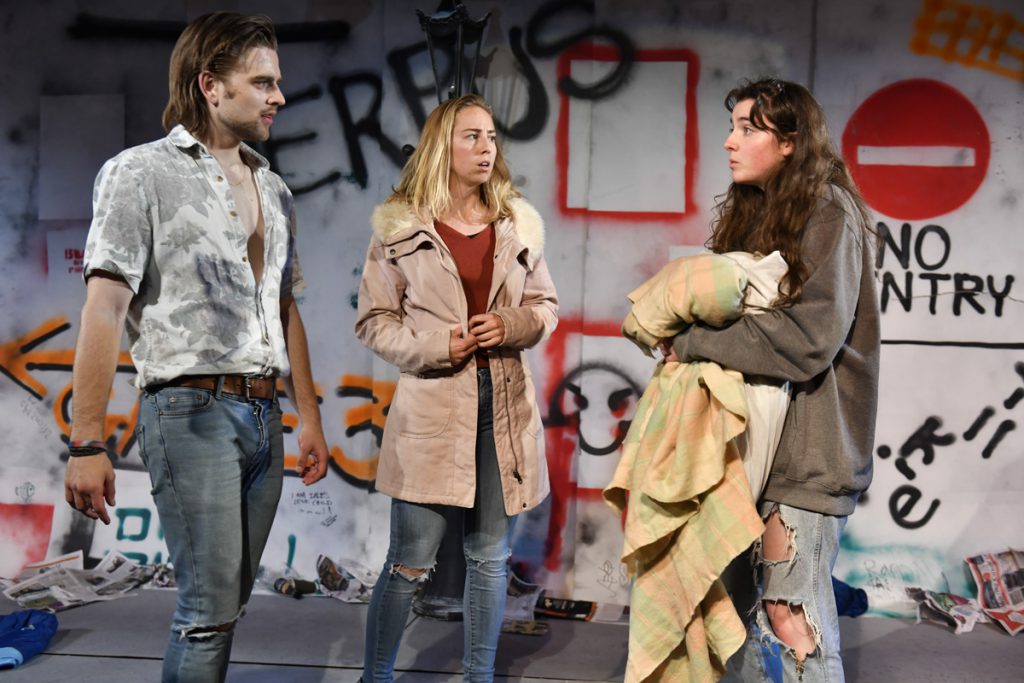 The play, written and directed by Liviu Monsted, centers around the experiences of Miriam (Lucy Hadfield), Foster (Stuart Oliver), Fay (Talia Chenaye), and Christian (Benn Spillane). Opening with Miriam and Foster sleeping on a street pavement, arguments are made between the cautious latter and the cautiously optimistic former about whether to move on to find a 'better' spot to sleep and ask for money.
Whilst looking for a new spot, the cliché 'millennial' Fay seeks a fresh new perspective with her disillusioned anarchist boyfriend Christian by sleeping rough on the street for a few nights. Tensions arise when Christian and Fay pretending to be homeless, accidentally taking Miriam and Foster's spot on the street.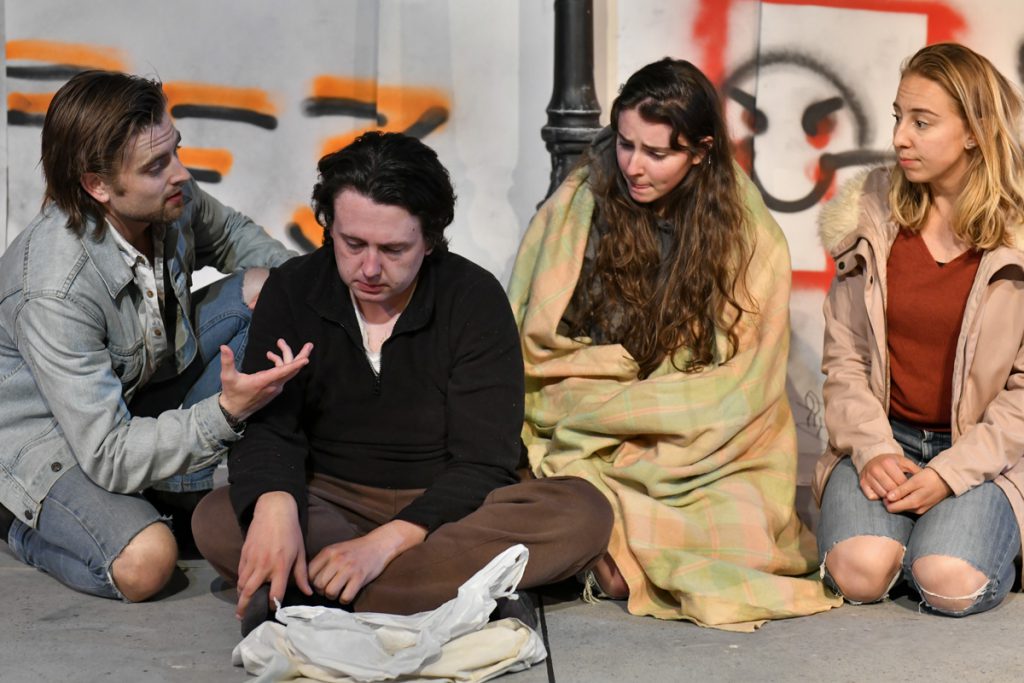 The play, unfortunately, is limited by its hour length. A longer runtime would have benefited the play immensely; the plot easily had the potential to be more nuanced if it had given itself some more space to breathe. Inevitably due to this short length, fairly predictable tropes had to be employed for it to wrap up without seeming too abrupt.
That is not to say that it didn't provide some valuable messages for today's society, particularly surrounding shallow empathy and the current zeitgeist with our world's more prominent narcissistic features. However, I do feel that the play was oddly centered primarily on a critique of today's zeitgeist, and secondly on the actual lived experience of the homeless. It may just be that I find the former more accessible.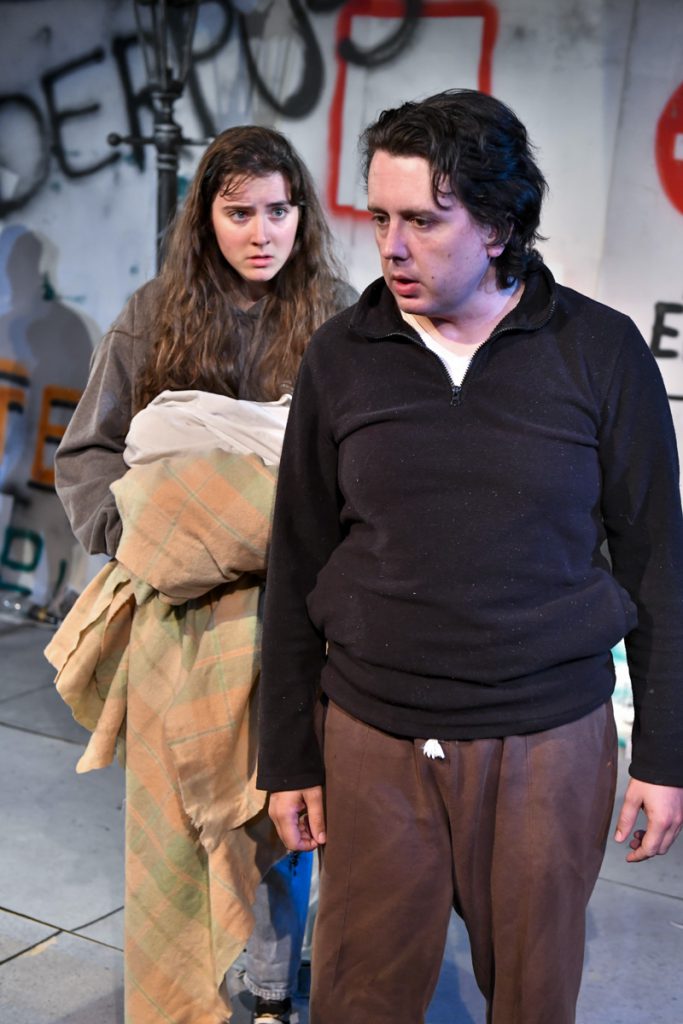 The set was basic and cut back with a curtain of graffiti and the semi-makings of a sidewalk. I believed it worked well and served its purpose effectively, as too often sets can distract terribly from the actor's performance. On that note, I was quite impressed with all the actors in tonight's performance. I found them to be convincing and sincere, which is particularly important for a play of this nature.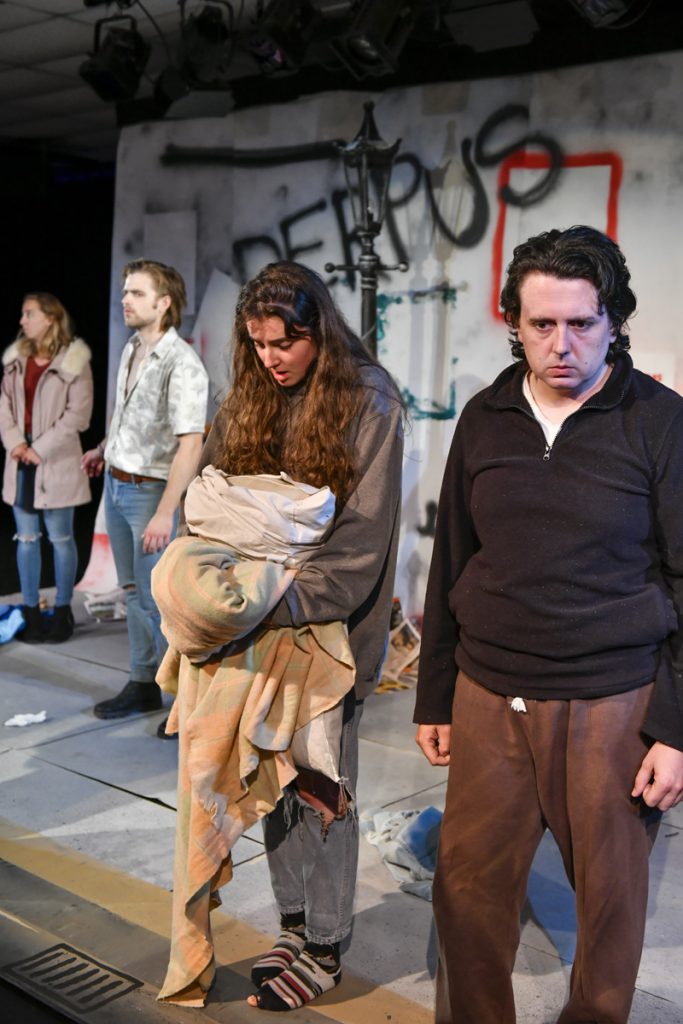 I feel it important to note, though, that the lighting of my night was off. Indeed, my heart went out to the actors when they made a first attempt at bows in complete darkness. Whilst STREET is fringe theatre, I have never quite seen anything like it before; I will admit it added to the whole experience in a strangely entertaining sort of way.
I congratulate Monsted, the actors, and the production team for putting together such a sincere critique on an issue that is too often ignored.