"A-B-C – Always Be Closing!"
It's a cut-throat world. Staff are pitted against each other to deliver the best sales results. Swear words are thrown around like paper aeroplanes. Guns n Roses dominate the airwaves. And smoking is still acceptable in the office.
Welcome to the world of 1980s real estate sales; the setting for New Theatre's production of Pulitzer Prize-winning play Glengarry Glen Ross, written by David Mamet.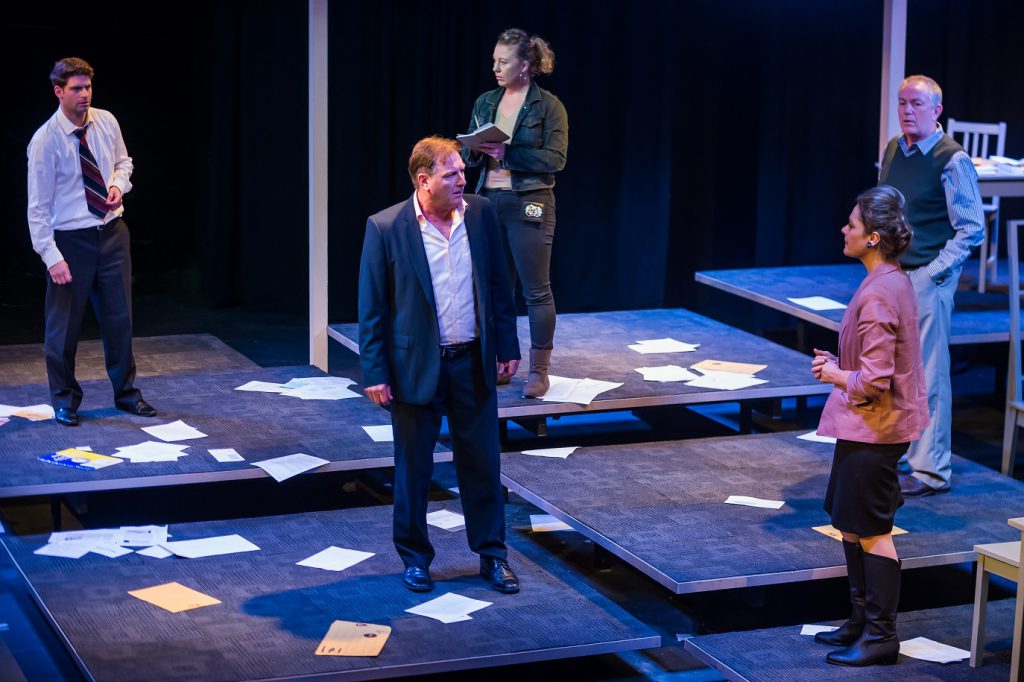 In this scathing satire, four salespeople at Mitch and Murray are told that sales just aren't good enough. The top two performers get to keep their jobs, and maybe win a Cadillac. The other two get the chop. What follows is 90 minutes of lies, bribes and schemes in order to secure the best leads to sell the Glengarry and Glen Ross estates and keep their jobs.
Director Louise Fischer leads a talented ensemble cast with strong performances.  Featuring Adrian Adam, Oliver Burton, Ben Brock, Mark Langham, Caroline Levien, Hannah Raven, Meg Shooter and Andrew Simpson, each character encapsulated the fiery, foul-mouthed free-for-all of this power-hungry real estate world. The decision to switch from a traditional all-male cast to mixing up genders and include women playing male characters worked to further shine a spotlight on the toxic masculinity that is (deliberately) rife in Mamet's script.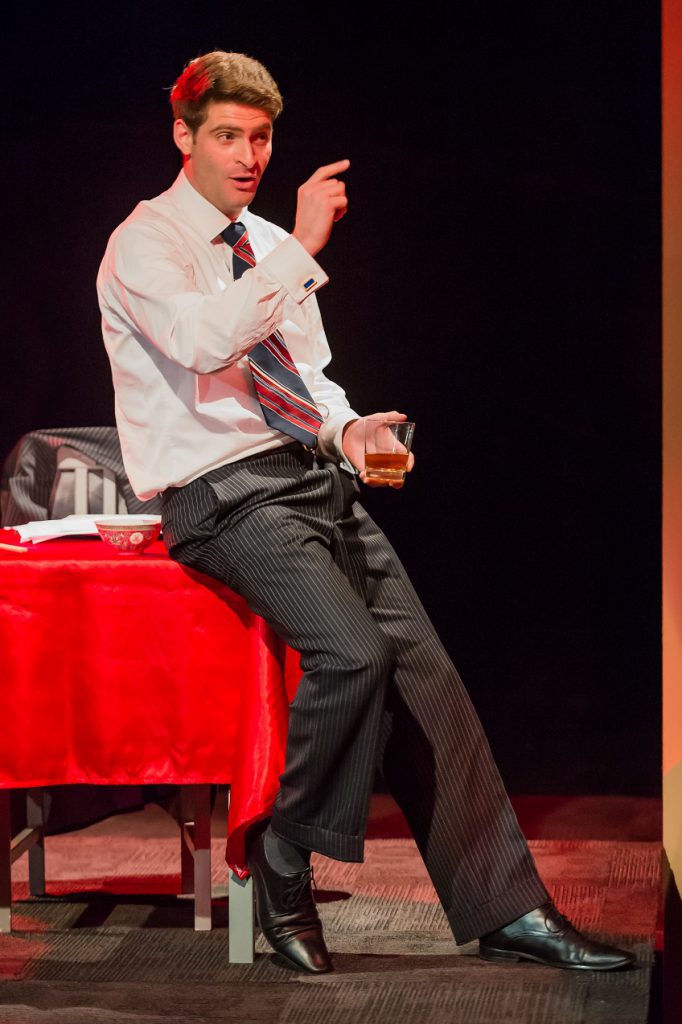 Ricky Roma's (Burton) high-energy, smooth-talking schmoozing was played so effortlessly that it was easy to forget what heinous tactics he would use to secure a deal. Just like his clients, it was easy for the audience to be cast under his charismatic spell. Manipulator Moss was superbly brought to life in a gender-twist by Hannah Raven, whose power suit and comedic timing perfectly added humour and light to some serious themes.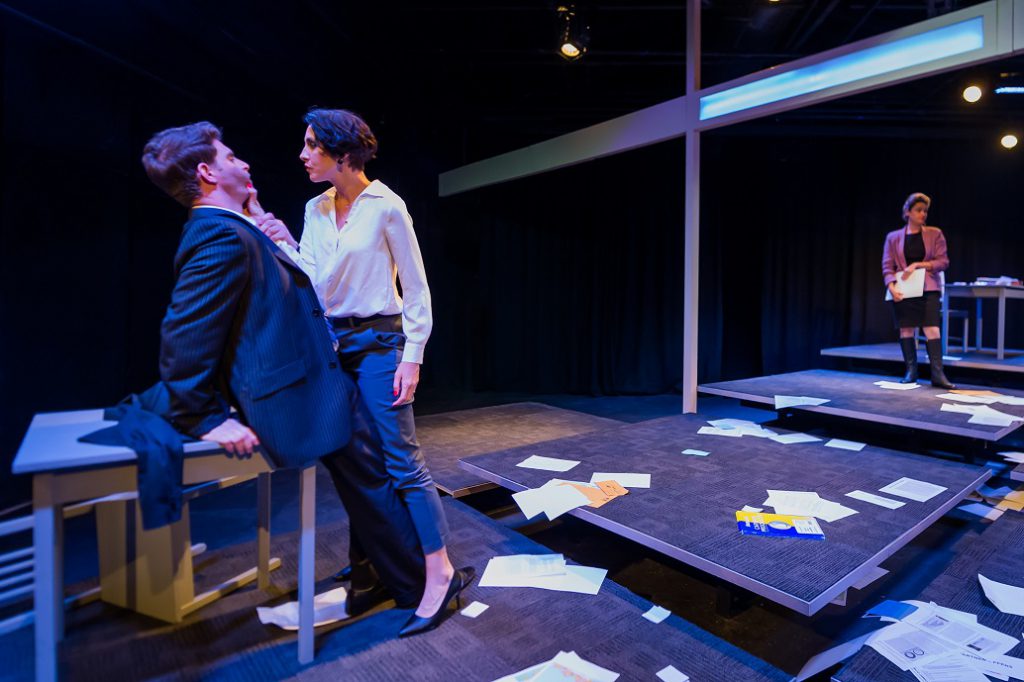 While the original play is set in Chicago, this reviewer suspects New Theatre's version was set in New York (as was the 1992 film version starring Jack Lemon and Al Pacino). Set Designer Tom Bannerman proves that sometimes simple is best, allowing the actors to shine through and fill the space with energy and action. A Chinese restaurant setting (denoted by simple hanging lanterns, and chopsticks on the table) with a quintessential New York 'bustling city' soundscape was all it took to transport the audience to 'downtown', where the first half of the play is set. Scattered papers and empty desks immediately took us to the office for the second half.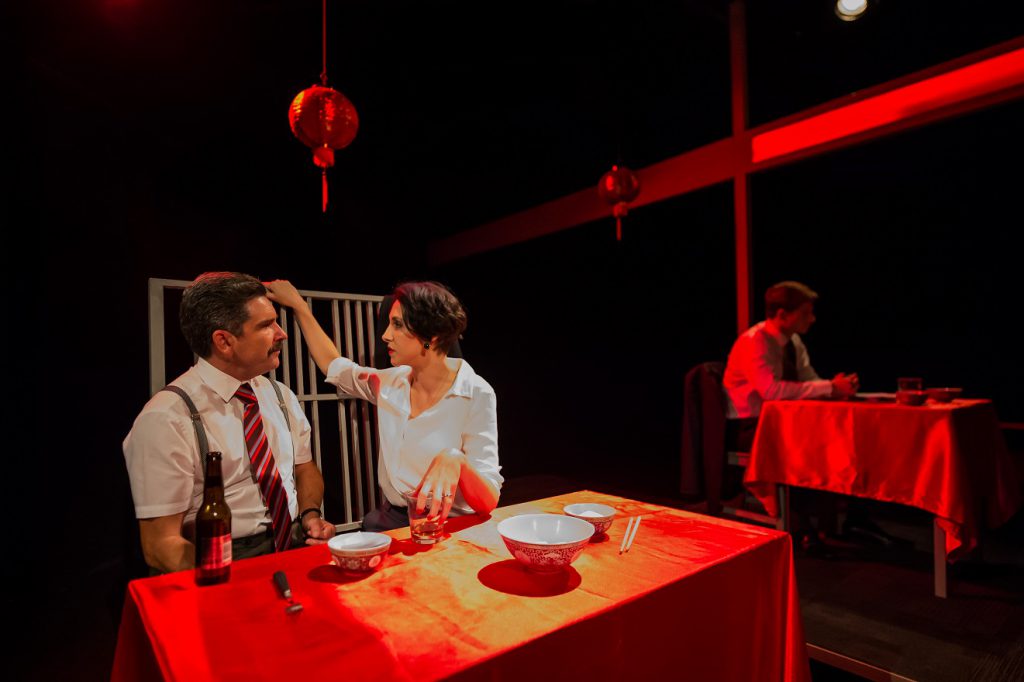 Immaculate accents, no doubt with the help of voice coach Benjamin Purser, also helped transport the audience to the U S of A, and one could be forgiven for thinking they were listening to George Constanza on the set of Seinfeld.
Mamet wrote this in the 80s, and while many parts still ring true today, the explicit racism in parts of the script – despite this being a satire – feel like they cut in a deeper way in 2021. Lines that were supposed to illicit laughs from the audience instead attracted nervous noise and gasps. While once they may have been just another line in the mile-a-minute script, these days they linger longer, unsure of their place in today's dialogue.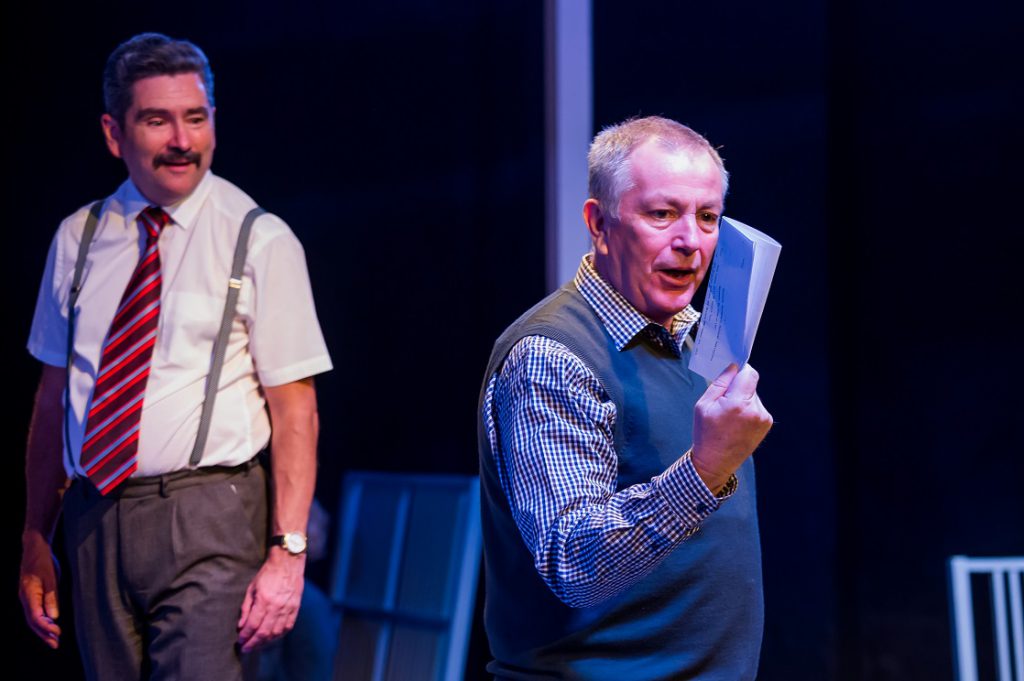 While some parts may not have aged well, the human desperation to close the deal – whatever it may be – when the stakes are high, are universal, and New Theatre's Glengarry Glen Ross captures that tension in a frenzied, fabulous (and funny!) 90 minutes.
Now, has this review closed the deal for you?!