Ensemble's The Woman in Black promises to be a 'spine-chiller' of a show. Whilst, I can't really say it was that scary, the outstanding performances of Garth Holcombe and Jamie Oxenbould as well as the highly polished technical elements made this show worth watching. The Woman in Black plays at Ensemble Theatre until the 24th of July and is an excellent opportunity to use any of your remaining Dine and Discover Vouchers before their expiration.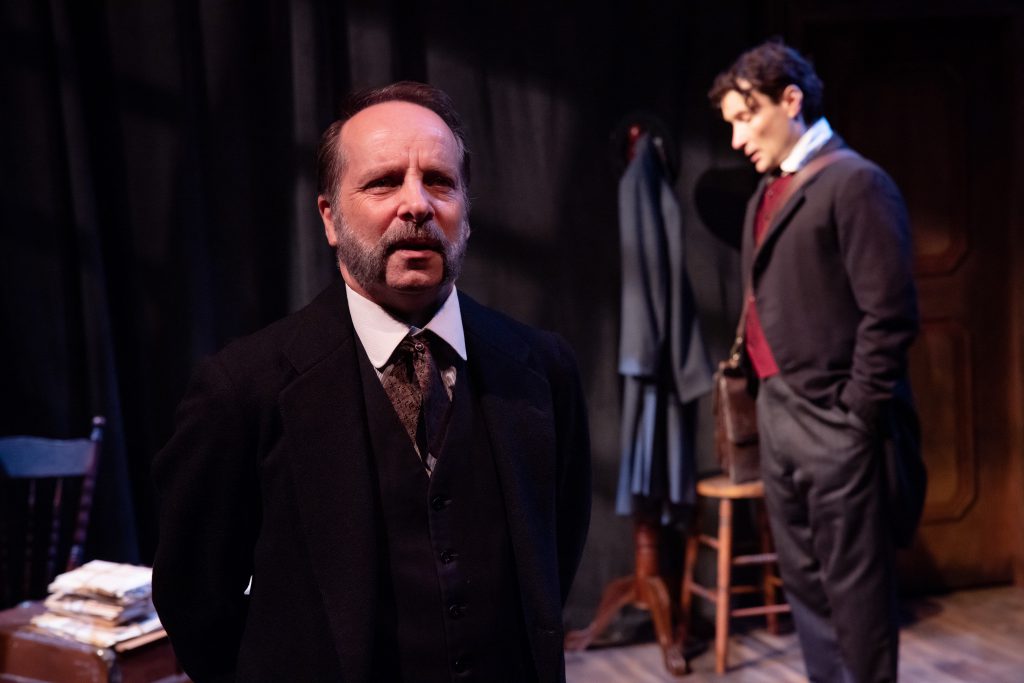 The Woman in Black is a supernatural, gothic-style horror set in the small English town of Crythin Gifford. Most audiences will probably know The Woman in Black from the 2012 screen adaptation featuring Daniel Radcliffe. Some might also know it was originally a novel, written by Susan Hill in 1983. At Ensemble we get the Stephen Mallatratt 1987 stage adaptation. The Mallatratt stage adaptation experienced a meteoric rise upon its first release, going from a bargain basement production at a Scarborough theatre to the prestigious West End within a single year, and is now the second-longest running show at West End. An impressive feat for sure and one which highlights audience's appreciation for the Mallatratt play. Admittedly, I had never seen the stage performance of The Woman in Black before and was never a huge fan of the original novel by Susan Hill or the Radcliffe-starring film. However, I was pleasantly surprised to find that the Mallatratt stage adaption is greatly superior to both the novel and film, particularly due to its use of a play-within-a-play embedded narrative device.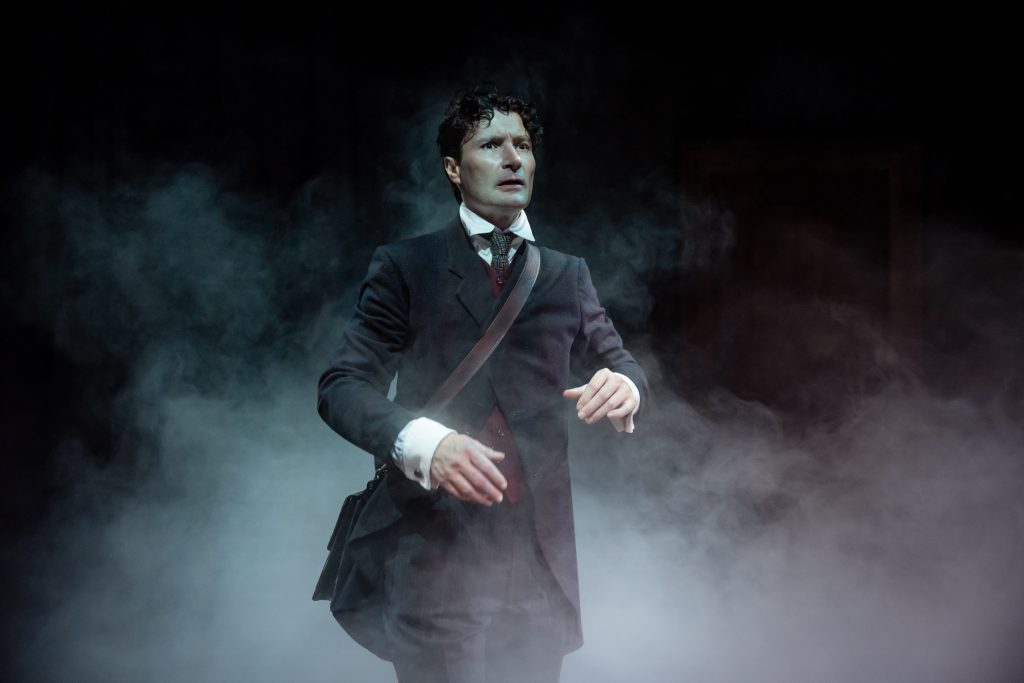 The performance opens in a disorderly looking theatre, where a humorous exchange takes place between an old Arthur Kipps (Oxenbould) performing a scene from the play he has written rather poorly. A young actor (Holcombe) whom he has cast to play the younger version of himself criticises the old Kipps, leading to a great exchange of banter. Old Kipps' acting improves, and we see them perform the play together – discovering the secrets of Drablow's Eel Marsh House.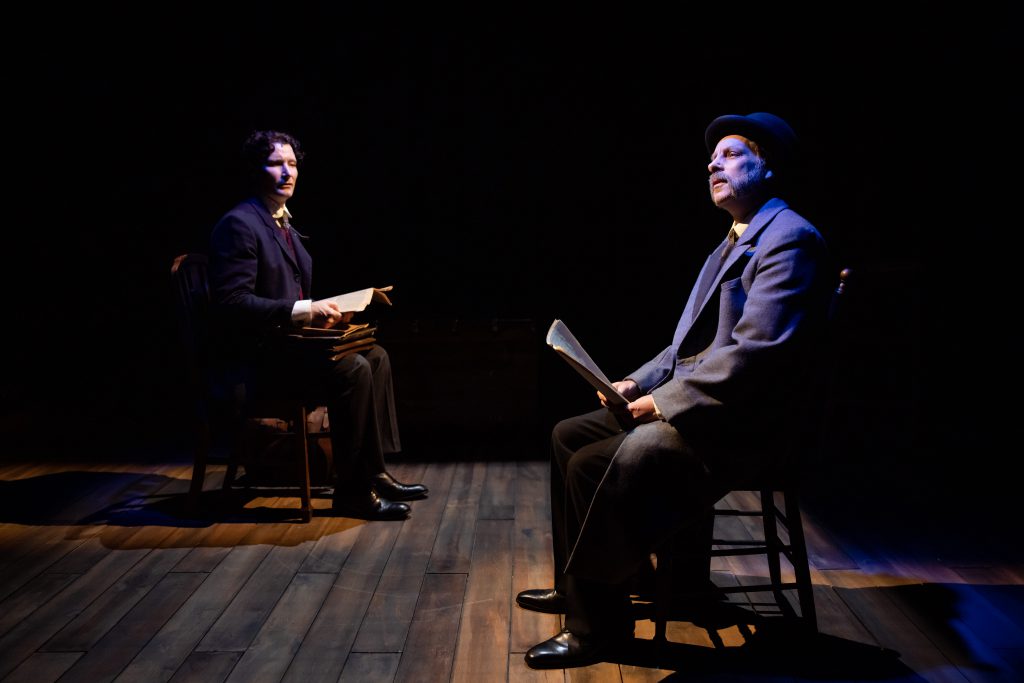 I did not feel much fright throughout the night. I imagine most audiences would agree with that, unless you are the type to be frightened by ghost stories. Unfortunately, Ensemble has committed to some cliched jump scares, which I think are one of the weaker aspects of the Mallatratt stage adaption. I counted the 'door slamming' jump scare used on five occasions during the show. Perhaps this point has only particularly unnerved me as another horror performance I saw just last week repetitively used the same jump scare, but I think seeing two shows using the same jump scare just demonstrates how much of an overused horror trope and cliché it has become. I certainly wished that directors would cut or modify the door slams where they appear in otherwise good scripts.
Nonetheless, despite this criticism, director Mark Kilmurry has shown that he has the potential to craft other very potent jump scares, such as one involving a train, which by marrying excellent sound effects, striking lighting (Trudy Dalgleish), and an ominous context made for a truly impactful jump scare.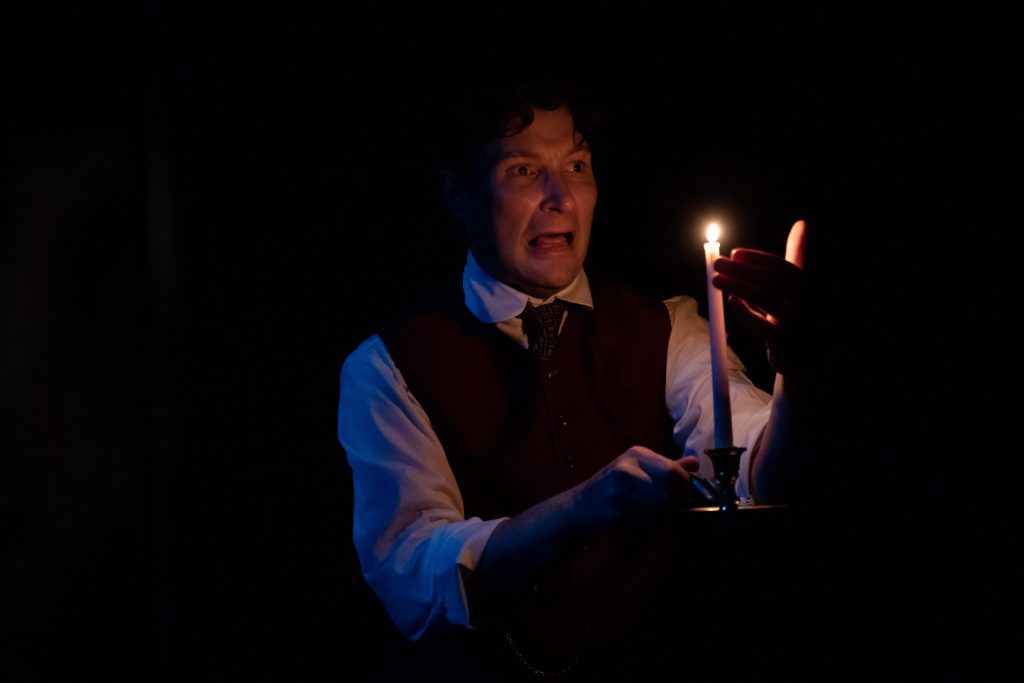 What really stands out in Ensemble's The Woman in Black is Oxenbould's and Holcombe's incredible performances. In a two-man show (there is a ghost/apparition who appears, but the performer is not credited), it is vital that both actors deliver strong performances. Oxenbould and Holcombe do far more than this, delivering some of the most exceptional performances in recent memory. Holcombe is able to seamlessly switch between a confident, young actor to the deeply afraid Kipps, on his journey to discover the dreadful secrets of the Eel Marsh House.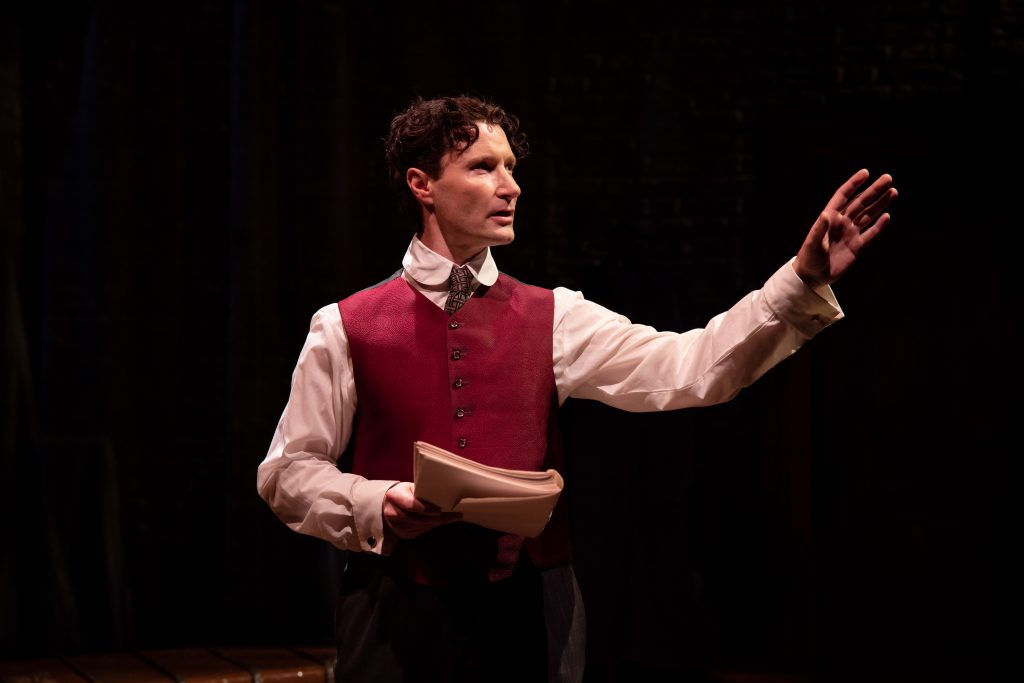 Oxendbould's performance is an even more impressive feat, however. In the first act, he is able to expertly play the part of an amateur actor (which I imagine, is counterintuitively one of the most difficult things to convincingly portray as a genuinely good actor). Later, he is able to switch between an assortment of characters with unique British accents, doing so with incredible precision. Even his mannerisms, body language, and costumes (credits to Hugh O'Connor and Margaret Gill for their superb work on this aspect) alter in very realistic ways. I can assuredly state that I've never seen an actor who has such a strong mastery of this aspect of the craft.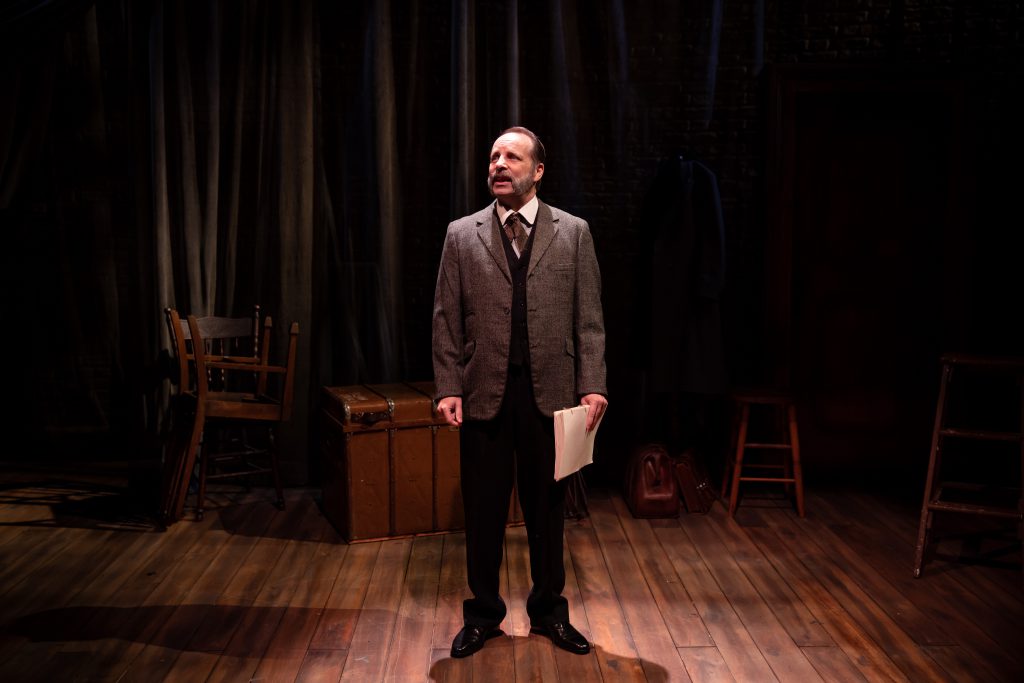 Both actors also make very impressive use of the Ensemble stage. Its small space works to benefit the performance overall, making the horror seem closer to us and therefore more powerful. Yet, Oxenbould, Holcombe, and the uncredited ghost seemingly make it expand at just the right times, making use of the stairwells as well as a very unique staging element – [REDACTED: SPOILER] – only revealed at certain times (credit to Hugh O'Connor for set design). I must say, I have no idea how O'Connor managed to make [REDACTED] lose and gain translucency, but the result is fantastic and worth commending.
Sound design (Michael Waters) is also very well-done and assisted the actors in producing such a great performance. Of particular note was having actors Oxenbould and Holcombe comment in amazement at the start of the show as to the production of artificial sound, as well as their signalling to the sound team positioned at the top of the Ensemble stage at certain points to produce sound. This was certainly a nice touch that adds richness to Mallatratt's script, particularly as it made the embedded narrative, play-within-a-play concept feel so much more authentic. Yet, though this design makes excellent use of Ensemble's acoustics, some work could be done to create more varied sound effects as some became repetitive.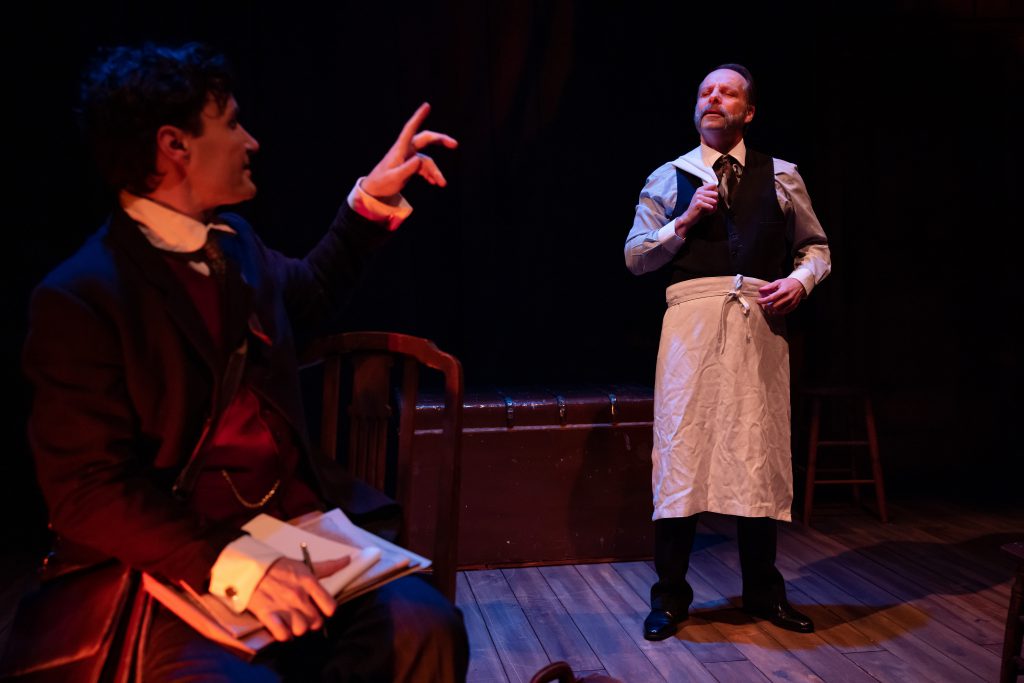 You probably won't find Ensemble's The Woman in Black to be a 'spine-chilling' horror. But what you will find is a very solid play, with incredible performances from the two-man cast and very well used technical elements to support. I would have no hesitation in recommending you purchase tickets before it ends on the 24th of July, particularly if you are a fan of The Woman in Black, as you're likely to find this the best adaption of Hill's original work.